Treasury secretary defends government scheme after launching its second phase this week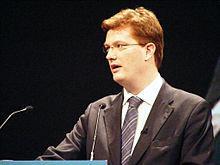 Treasury secretary Danny Alexander made a robust defence of the government's Help to Buy scheme against allegations it is creating a house price bubble after launching the second phase of the programme this week.
Speaking after the launch of Help to Buy 2, which will see the government offer £10bn of guarantees behind mortgages to aid house purchases, Alexander (pictured) said that many parts of the country were still seeing low housing market activity and buyers facing difficulty obtaining high loan-to-value mortgages.
"These people who think there is a house price bubble should get out of London more," he said. "Come to Inverness, or Birmingham or Leeds, and you'll see a market that is still significantly constrained, and where Help to Buy can make a significant difference."
More than 750 housebuilders have registered for the first phase of Help to Buy, based around government equity loans, since its launch in April.