Cost consultant says King's Cross set to be hub of burgeoning market for capital
Alinea has said it is eyeing more work in the life sciences sector as the London cost consultant looks to broaden its workload beyond its commercial office core.
The firm, which was set up eight years ago, said revenue slipped 9.5% to £15.2m in the year to April as the pandemic put the brakes on the London commercial market and decimated retail schemes.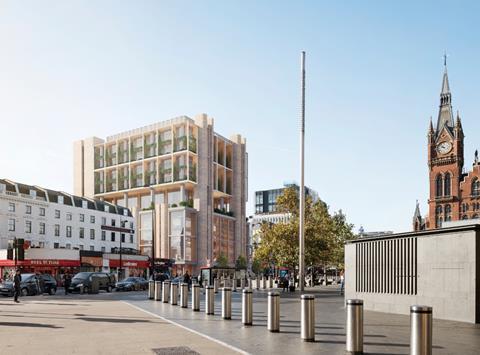 Alinea has around half a dozen life sciences jobs on the go in London, including the Whitechapel Estate for NHS Properties and the Merck building in King's Cross, with the sector currently accounting for around 10% of its turnover.
But founding partner Mark Lacey said it was looking at doubling business in the market. "Life sciences is going to be massive for London. King's Cross is a bit of bullseye for life sciences because of the Francis Crick Institute, the Wellcome Trust and the universities around there."
Another development being earmarked for some life sciences space is the British Library extension, also in the same area, which Alinea is working on as well.
Lacey added that more and more developers, saddled with empty offices and retail units, were now looking at turning some of that into life sciences space.
"People are future-proofing, wanting to turn that space into life sciences. There are a lot of empty assets that need repurposing."
Yesterday, British Land said it was targeting tenants from the life sciences market with the developer saying it expected firms from the sector to move into its campuses at Regent's Place and Canada Water.
Regent's Place is close to the Knowledge Quarter, the area around King's Cross, the Euston Road and Bloomsbury and which includes the Wellcome Trust, the Crick and the British Library.
British Land said its campuses now account for nearly 90% of its offices portfolio and added: "We are well placed to target successful businesses in innovative growth sectors. One clear opportunity is in life sciences at Regent's Place."
Lacey said the office market was "resilient" but admitted the number of starts was down – although the firm has been deluged with inquiries about feasibility studies from office developers.
"[Offices] are moving forward but progress is slow," he added with work in the market only expected to tick up again in the autumn in part thanks to the capital's status as a global city.
The firm, which worked on 22 Bishopsgate and is also working on Brookfield's 1 Leadenhall development, is the QS on a brace of tower schemes on Gracechurch Street in the City which Hong Kong developer Tenacity got planning for earlier this year. "London will always be a magnet for overseas investors," Lacey said.
Alinea is also working on its second overseas job, a pair of corporate fit-out schemes in Switzerland including a project in the country's financial capital Geneva.
Its inaugural overseas job is a scheme for US tech firm Salesforce on a campus development in Dublin.
Lacey said the firm was not forced into cutting jobs last year as the pandemic forced rival firms to lay off staff while Alinea only had to furlough two members of its 103-strong team as it kept all its employees on full year pay and handed out promised bonuses.
He added the firm was looking to grow by another 10 staff in the coming 12 months with turnover due to be close to the £16m mark, a rise of 5%, by the end of its current financial year.