22 Bishopsgate cost consultant sees income jump a quarter in last 12 months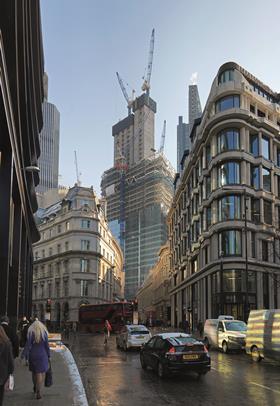 Alinea expects to be working on its first overseas project within a year as the growing cost consultant looks to break out of its UK market which last year saw business increase by a quarter.
The firm has already been sounded out by a number of signature architects about working on jobs abroad and founding partner Iain Parker admitted: "This time next year we'll probably be working with a UK architect on an overseas job and it will most likely be a tower.
"We've had opportunities internationally before but we've turned them down. We feel now is the right time. A lot of tall buildings are designed in London, even if they sit elsewhere."
Alinea is already on a number of high-profile tower schemes in the UK including the 22 Bishopsgate scheme (pictured) in the City of London for developer Lipton Rogers as well as the nearby 6-8 Bishopsgate tower being built by Mitsubishi Estate.
It is also working with Hammerson and Standard Life on the pair's redevelopment of the Brent Cross shopping centre in north-west London which is being carried out by Laing O'Rourke and is working on a fit-out job with US software firm Salesforce at the former Heron Tower now renamed the Salesforce Tower.
The firm has a roster of around 50 clients with its biggest sector being commercial which accounts for around a third of the firm's income.
But Parker said there would be "less activity over the next three years" in the UK as developers took longer to make up their minds about schemes. "A lot are bringing stuff forward but in stages."
In the year to April 2018, Alinea saw revenue jump 25% to £13.2m and the company has set itself a target of increasing this by 10% to £14.5m next year.
The firm has just under 100 people on its books but Parker said this number would not grow much beyond 120 at the business which was set up five years ago by six former Davis Langdon and EC Harris partners.
Alinea is due to take up additional space at its current office on Cannon Street, where it has been for more than three years, moving staff on to a second floor at the end of the summer.
In April, Aecom big hitter Alastair Kenyon joined the firm as its seventh equity partner with a brief to work alongside the firm's private sector clients on commercial, mixed-use and residential schemes.