Firm was working in joint venture with bust contractor on schemes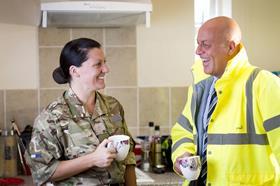 Amey has saved 4,000 jobs through an acquisition of Ministry of Defence contracts which it previously held in a joint venture with Carillion.
In 2014 Carillion-Amey was awarded Regional Prime and National Housing Prime contracts worth a combined £1.6bn. The contracts were for a five-year period but contained the possibility of being extended by a further five years.
The contractors worked on a range of military infrastructure and housing services on behalf of the Defence Infrastructure Organisation, including repair and maintenance of service family homes and other facilities on MoD estates.
But following Carillion's liquidation in January, Amey has been single-handedly working on the jobs. The contracts have now been fully transferred to Amey.
When Carillion-Amey was first awarded the National Housing Prime Contracts in 2014, losing bidder Interserve brought a legal challenge against the decision. Interserve told the High Court that Carillion-Amey's bid was "abnormally low" and "undeliverable".
This not the first time Amey has stepped in to take Carillion contracts – in February 700 jobs were saved when Amey took on a number of Network Rail contracts previously held by Carillion.