Chief restructuring officer added to list of new roles which include director of transformation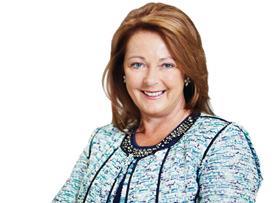 Interserve has appointed a turnaround specialist to the newly created role of chief restructuring officer.
News that Scott Millar, the boss of AlixPartners, is joining comes just 48 hours after the firm said it had secured new funding, which expires at the end of March.
But it omitted to mention the appointment with some reports speculating that Millar had been imposed on the firm as a condition of the funding deal.
Interserve said AlixPartners had not been appointed as restructuring advisers and added: "Interserve appointed Scott Millar as chief restructuring officer to bring additional capability and experience to the group. This was not a contractual requirement of the new borrowing facilities."
Millar joins as the firm's chief executive Debbie White (pictured) continues her rejig of her top team. Sally Cabrini joins as director of transformation next month from water firm United Utilities while the boss of its support services business Bruce Melizan leaves at the end of next month after 15 years.