Firm says UK construction is 'on a cliff edge'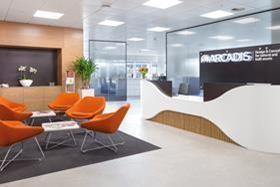 Arcadis has said the UK government should stimulate construction demand with tax incentives.
The consultant warned Brexit uncertainty, combined with a wider global economic slowdown, was hitting business confidence.
While a smooth exit from the EU could trigger a recovery, Arcadis said a no-deal Brexit would see a fall in asset prices and could affect government spending plans – with approval for major schemes put on hold.
Simon Rawlinson, head of strategic research at Arcadis, said: "Delays to Brexit and the increasing likelihood of a UK election continue to shift the attention away from the long-term horizon; the UK construction market is hanging on a cliff-edge.
"From universal tax incentives such as the lowering of VAT, or incentives for capital investment, to the creation of economic zones or a revision of the fiscal framework, there are a number of significant measures that could be taken," he added.
Arcadis forecasts tender price inflation of 3% a year for 2019-2021, rising to 4% for 2022-2023 – although this was dependent on a managed exit from the EU.