Rebranding follows three years of ownership by Ingenium Group, which trades under the NORR brand in the US, Canada, the Middle East and Asia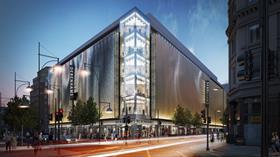 Architect Archial's UK business rebranded as Archial NORR this week, three years after the practice was acquired by Canadian architect and engineer Ingenium Group.
Ingenium trades under the NORR brand in Canada, the US, the Middle East and Asia, and Archial said this week the rebranding, effective from 2 December, recognised the increasing collaboration between the businesses, with the firms working together on a number of major projects in Canada, Saudi Arabia, Iraq, India and the UAE.
In a statement, Archial said: "The business has benefited from the support of its Canadian parent, the Ingenium Group, since it was acquired in 2010 and is now moving forward with renewed vitality as the economy shows increasing signs of improvement.
"The merger of the two brands, as Archial NORR, reflects the success of this collaboration and is the logical evolution of Archial's integration with the larger practice."
Archial NORR also said Douglas Lang, president of NORR's international division, would relocate from Dubai to London. The firm said the move was intended to focus the leadership of NORR's international practice in the group's newly renovated London offices and to expand the company's global portfolio.
In October, Archial reported UK revenue of £10.4m in the year to 31 December 2012, down from £18m in the 15 months to 31 December 2011 - which equates to a 28% fall in monthly revenue.