London mayor Sadiq Khan to rule on Squires' plans for three towers up to 39 storeys for developer Berkeley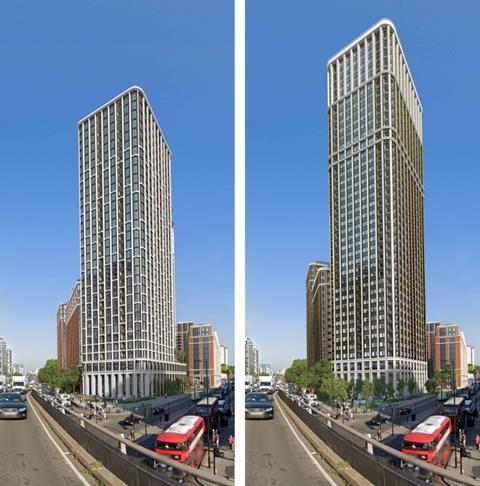 Squire & Partners is facing a backlash from Westminster council after substantially increasing the height of a three-tower housing scheme which was previously refused for being too tall.
The practice is seeking approval from London mayor Sadiq Khan for the 556-home redevelopment of the former Paddington Green police station site in west London which has been drawn up for developer Berkeley.
Initial plans for a trio of 15, 18 and 32 storey buildings on the site were rejected by Westminster council in 2021 for their "excessive height and bulk" and impact on the local townscape, which includes four conservation areas.
The project team revised the designs and is now proposing slimmer towers with an increased height to 17, 24 and 39 storeys, a move which the council's planning officers said would "quite notably increase" the scheme's impact on local views.
The council's decision on the former application was called in by the Greater London Authority in November 2021, meaning that Khan now has the final say on the plans.
The mayor is consulting with Westminster council on the scheme, which will go before the council's planning committee for an appraisal on 28 February. The planning officer has recommended councillors issue an official objection to the revised plans on the grounds that any benefits of slimming down the towers had been negated by their increased height.
The officer's report also criticised the new scheme's removal of nearly 5,000 sq m of office space and for having a more "generic" design quality than the former proposals.
The report said: "A particularly regrettable aspect of the current proposals is the lesser architectural quality and individuality of the revised proposals, which consequently lessen the degree by which this might have previously ameliorated or compensated for the impacts that might have been caused by the buildings' scale and bulk.
"The facades are now quite generic in design and do not speak at all well for the local context."
However, the officer said the public realm had improved compared to the earlier plans and welcomed the addition of a new pedestrian street connection between two of the blocks.
Berkeley envisages the scheme as the culmination of its masterplan for a wider site which includes the neighbouring 844-home West End Gate development, which was also designed by Squire & Partners and has now completed construction.
Paddington Green police station was the Metropolitan Police's main interrogation facility for high profile suspected terrorists before its closure in 2018. Suspects detained there included members of the IRA, British nationals released from Guantanamo Bay and the July 2005 London bombers.