Wood Bagot reveals designs for 'icebergs' as a quick and flexible solution to the growing problem of stalled construction projects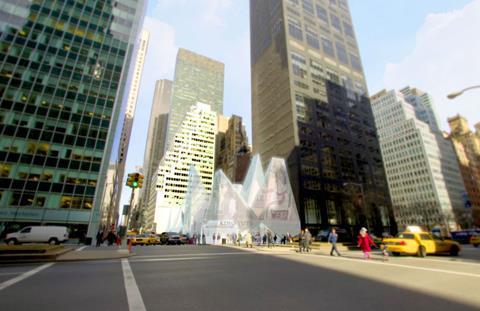 An architect practice has come up with an innovative solution for putting stalled construction sites to good use and improving their appearance – inflatable buildings.
Wood Bagot today launched its "icebergs" which are intended to revitalise stalled construction sites that have been "frozen" by scarce financing.
These buildings, would not only cover-up derelict sites, but could be used for retail, exhibitions and cultural events as well as to generate advertising revenue and temporary rents.
Stalled sites create issues for developers whose financing has dried up in the recession because even when sites are unused, they incur empty property tax.
Jeff Holmes, a principal at Woods Bagot said: "We set out to imagine new uses for stalled sites, but with the goal of developing a real proposal."
"The real beauty of the inflatable buildings is that they can be put up very quickly and taken away even quicker, thus making them a totally flexible solution," added Nik Karalis, Woods Bagot's Global Design Director.
The inflatable buildings are based on iceberg-shaped modular units that can be added up for larger sites. The core design is a steel structure wrapped in high-tech plastic fabric called EFTE.
The fabric also has structural support air beams stitched into it, which are usually found in high-end pup tents and aeroplane evacuation ramps.
Wood Bagot says the air-filled interiors of the inflated structures carry minimal carbon footprint.
While the concept is still in its early stages, Wood Bagot has already started informal discussions with several US developers. The firm is now hoping to continue its innovative business drive with UK counterparts.