Orms initiative would allow data on materials within existing buildings to be scanned with phones
East London practice Orms has unveiled a new initiative for architects to gather information about materials in a building to decide whether they can be reused.
The concept, known as a materials 'passport', would allow architects to use their phones to scan QR codes, matrix barcodes, imprinted on materials within buildings to access information about them.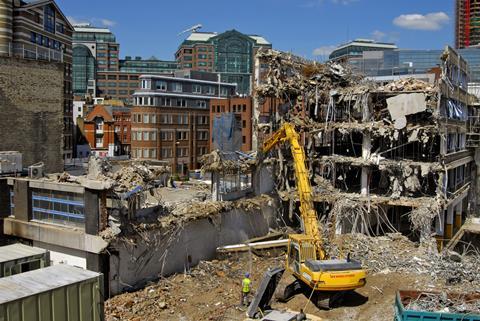 Users will then be able to view all of the recorded data on the scanned material, including product origin, fire ratings, structural information and maintenance information.
The approach is different from an existing EU scheme known as Madaster, which uploads BIM models onto a platform and tags materials contained in the model to create a register.
This can then be used to calculate a value of the materials in a completed building but is less suitable for live projects as any changes to the BIM model would require materials to be retagged.
Orms' approach would use the passport to pull information out of a database which can then feed back into a BIM model, allowing architects to make judgements during a live project on whether materials in a building can be reused.
The information can also be filtered, meaning that people working in different construction disciplines can find relevant information such as design features, structural data and maintenance records.
According to the latest government figures, as much as 62% of the UK's waste comes from the construction industry.
Architect Rachel Hoolahan, who has led Orms' research on the project, said the passports would allow much more information about materials in a live project to be stored and accessed than current methods.
"You would have lots more information and therefore you could trust the material. A material passport is an identity document, in the same way that a normal passport tells you key information about me and tells you where I've been".
She compared the ability to see information on used materials to selling a used car: "You get a better return on your investment if you have service history for your car, because it gives you confidence in it."
She added that several ideas about how to manage materials data had been suggested but Orms' approach would be an interactive view: "The thing that it's reading is the database, so it's live, it's constantly being updated."
The research, which was launched last week, was developed as part of the Grosvenor Estate Innovation Project in collaboration with Arup and material reuse specialists Elliott Wood and Heta.