World-famous museum launches design competition as it seeks to redesign its grounds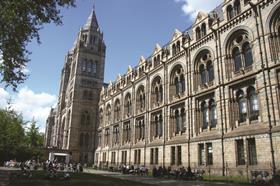 The Natural History Museum is seeking an architect to redesign its grounds and has launched a new design competition for the job.
Under the competition, architects have been asked to create an "innovative exterior setting that matches the architectural excellence of the iconic 19th century site" in South Kensington.
Drector of the Natural History Museum, Michael Dixon, said: "The grounds surrounding the building make an important contribution to how people experience the museum. This competition offers the very best of the architectural industry the opportunity to set the museum in a modern context, so it continues to be one of the UK's most recognised and admired sites."
The shortlist for the second stage will be announced in November and, following a public exhibition of the entries, the winning team will be selected by February next year.
The competition is being managed by Malcolm Reading Consultants in association with Deloitte, the museum's project manager for the works.
For more information see http://competitions.malcolmreading.co.uk/naturalhistory