Brexit means London remains gloomiest part of country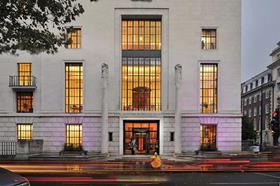 Architects' confidence has dropped for the first time this year, with Brexit nerves being blamed for the particularly pessimistic picture in London.
The RIBA's Future Trends workload index fell to +6 in March, down from +17 in February.
The data, the most recent available, found London architects and small firms were the least confident.
London practices' confidence was down to -17 and small practices dropped from +18 to +4 in a month. Any figure below zero means more respondents expect less work than those expecting more work.
In other parts of the country the picture was rosier. The balance figure in the Midlands and East Anglia was +22, in the north of England +24 and in the south of England +25.
There was a fall in all sectors but private housing remained the most upbeat. It fell back to +11 from +21 in February. Commercial fell to -2, from +7 in February. The public sector workload and community sector forecasts remained subdued, at -5 and -1 respectively.
The RIBA Future Trends staffing index stood at +3 in March, down from +6 in February. The biggest firms were the most likely to be expecting to be hiring.
RIBA executive director for members, Adrian Dobson, said: "Commentary received from our participating practices continues to suggest a reasonably steady market but not one with a great deal of momentum.
"London practices remain pessimistic about future workloads, especially those smaller in size. The economic and policy uncertainties created by Brexit continue to impact on the confidence of practices in the UK capital city.
"While large and medium practices both predicted an increase in workloads, many of our participating practices continue to report that fee competition remains a pressure on profit margins."