Optimism about commercial sector work highest since July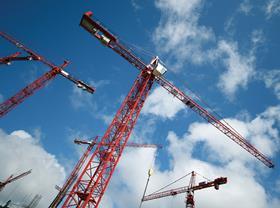 Confidence about architects' future work prospects bounced back into positive territory last month after RIBA's monthly Future Trends survey hit a post-Brexit referendum low.
After confidence about future work prospects slumped to -1 in November's survey - the lowest figure since June 2016 - December's survey revealed a recovery to +8.
It also revealed firms were more optimistic about future staffing levels with a balance figure of +5 compared to November's -4, although this is still down on October's +8.
All sizes of practice were more confident about the future, with architects in the north of England most optimistic at +22, a big leap from November's +7.
Architects in London are most pessimistic about work prospects, with a figure of -5. This is an improvement on November's figure of -15 but is still down on October's -4.
Confidence about work prospects in all sectors has also bounced back, with optimism about commercial sector work prospects jumping 12 points to +8, the highest figure since July. Private housing remains the strongest sector at +9 but architects remain pessimistic about the public sector which recorded a negative figure of -1.
RIBA said only 13% of architects had been reported being personally under-employed in the past month which suggested that there wasn't much slack in the architectural labour market with employment prospects remaining "fairly stable".
Adrian Dobson, RIBA's executive director for members, said the latest figures were more positive than the previous month.
He said: "The private housing refurbishment and extension market remains generally brisk for many. However a number of larger practices continue to report that Brexit uncertainty is putting a brake on development investment. Low price competition from non-architect purveyors of architectural services also continues to be a talking point for a number of correspondents."