RIBA survey also says optimism amongst profession suffers first year-on-year reverse since April 2013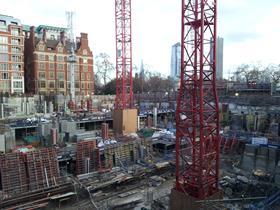 A number of architecture firms have begun reporting that CVs from EU architects have started to slow up.
According to the latest Future Trends research from the RIBA, practices are now seeing applications from EU nationals fall as worried architects turn their backs on the UK because of fears over whether they will be able to stay in the country following Brexit.
RIBA executive director members Adrian Dobson said: "A number of practices noted a reduction in the number of CVs received from job applicants, particularly from EU architects, an undoubted result of the uncertainty surrounding the Brexit negotiations."
According to the RIBA and the Architects Registration Board, around a quarter of the country's 39,000 architects are from the EU.
The news underlines the warnings given in December last year by RIBA president Ben Derbyshire who said the UK crashing out of the EU without a deal in place could lead to a skills exodus and risk its position as a global architectural hub.
He said: "A no deal Brexit is not an option; it would be a disaster for UK architecture and our built environment, and the government must take this option off the table."
He added post-Brexit, the UK "needed to remain open to the best and brightest talent from around the world", warning: "Anything less will lead to a skills exodus, higher costs across the industry and the failure to deliver domestic policies on housing, infrastructure and the industrial strategy."
And the survey said confidence among firms has seen its first year-on-year drop in nearly five years.
The RIBA said it collected data on the value of in-progress work on a quarterly basis and according to its latest RIBA Future Trends survey, the value of work in progress in January this year was 4% lower than it had been compared to last January – the first drop since April 2013.
The group said architects' optimism had edged up to +12 in January this year compared to the +8 recorded the previous month.
But London remains the most pessimistic of its regions with a score of -14 although practices in East Anglia, the Midlands and North of England all recorded positive scores.
Among work sectors, private housing retained pole position in terms of positivity among architects, continuing its upward momentum from +9 in December to +13 in January.
Sentiment on work in the commercial sector went in the opposite direction, dropping from +8 to +1, while workload forecasts for the community sector and the public sector remained mired in negative territory, with no overall growth predicted in the medium term.