Administrator warns out of pocket firms and employees figure represents less than 5% of what they are owed
Dozens of unsecured creditors of collapsed drylining firm Astins including trade contractors and the firm's employees have been told the maximum they can expect to recoup of their missing £12m will be just £500,000.
The Crawley-based firm sank into administration earlier this year after nearly a quarter of a century in business.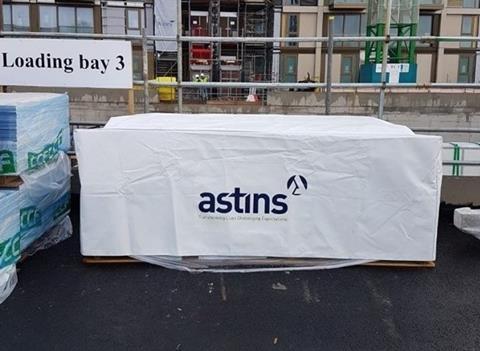 As the firm prepares to go into liquidation, an update from administrator Leonard Curtis promised out of pocket creditors they will get something back from the collapsed firm's contractual assets.
But the estimated figure of between £200,000 and £500,000 represents less than 5% of what they are owed.
And the report, filed at Companies House last month, warned that any money returned would be "solely dependent" on how much Astins' contractual assets would fetch, admitting: "No recoveries have been achieved to date."
It said the covid-19 pandemic had delayed project completions and the release of money but Leonard Curtis said it was "confident that recoveries will be achieved".
Astins, which also carried out fit-out work, sank into administration on 5 February and in a report issued the following month Leonard Curtis said the firm was hit by a £1.3m bad debt from the collapse of Carillion in January 2018 and last year had been forced to stump up £3m to cover the cost of remedial work on a former project in Peterborough.
The administrator said these two issues "together with a number of smaller remedial works that the company was required to carry out at its own expense on other historic contracts" began to put the squeeze on the firm's access to cash.
Less than two weeks before it collapsed, Astins received a summons in respect of a claim brought against it and others from Multiplex relating to an unnamed hospital job in Scotland. Leonard Curtis said the claim Astins was facing ran up to £6.7m.
It later emerged that Multiplex is one of several firms being sued for £73m by Scotland's largest health board, NHS Greater Glasgow and Clyde, over a string of alleged defects at Glasgow's Queen Elizabeth university hospital. The £575m scheme was completed in 2015.
Unsecured creditors were owed nearly £12m when Astins collapsed, the bulk of it to a string of trade creditors who were left nursing a £9.7m hit. HMRC was owed a further £737,000 while the firm's 188 employees, made redundant before the administration, were facing a deficit of £1.5m in missing wages and redundancy payments.
In its latest report announcing the firm's move into a creditors' voluntary liquidation, Leonard Curtis said secured creditor NatWest Bank had been paid its missing £33,316 while Astins' employees have been told they will be able to share nearly £149,000 in missing wages and holiday pay – capped at £800 each.
The report also revealed Astins had a Swedish Krona account with the equivalent of £158,666 in it. It said the amount was initially at the centre of a dispute between the administrator and a connected company but the money was now in the hands of the administrator.
Astins has a wholly owned subsidiary based in Sweden called Astins BYGG.
In provisional accounts for 2019, Astins saw turnover slip 15% to £43.4m with the firm slumping into the red, racking up a pre-tax loss of £257,500 from a pre-tax profit of £1m in 2018.