More than 83% of Atkins shareholders voted in favour of the buyout by SNC-Lavalin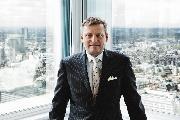 Atkins' shareholders have approved the takeover of the firm by Canadian engineer SNC-Lavalin.
The firm reported that over 83% of shareholders voted in favour of the deal with over 16% voting against at a court meeting and general meeting.
Subject to the takeover being court approved it is expected to finalise on 30 June and Atkins said an application will be made to suspend trading of the firm's shares at 6pm on that day. An application would also be made to de-list the firm from the London Stock Exchange and the cancellation of trading of Atkins shares, which is expected to take place at 8am on 4th July.
Atkins' management recommended SNC Lavalin's 2,080p a share offer for the company, which valued the company at £2.1bn, back in April.
The conclusion of the takeover will also see the departure of Atkins' chief executive Uwe Krueger (pictured), who will be replaced by Heath Drewett, Atkins' current finance chief.
Drewett will report to SNC Lavalin's board, running Atkins as a separate group within the Canadian firm.
The merger will create a 53,050-strong global firm with revenues close to £7bn.
Previously Neil Bruce, SNC-Lavalin's president and chief executive, said the acquisition was "fully aligned with our growth strategy, creating a global fully integrated professional services and project management company".
Earlier this month Atkins revealed it had broken the £2bn revenue barrier and seen pre-tax profit increase by 13% to £148m for the year to April, up from £131m last year.
The firm's UK and Europe business saw a 22.5% increase in operating profit to £90.4m for the year, but revenue fell 3.4% to £911.1m, which the firm attributed to primarily the reduction in rail signalling revenue.
Atkins also reported growth in its energy, US and Asia businesses although it reported spending delays by the US government.
The firm's business in the Middle East traded in line with expectations the firm said with a 6.5% drop in revenue £232.2m and 26% drop in operating profit to £21.8m for the year.
Atkins said the prolonged low oil price had caused client decision-making to slow, with increased uncertainty around the award of projects.