Fall of more than 2% is the sharpest since January last year
Bad weather, rather than Brexit, may have been behind a 2.3% decline in construction output in October, according to the Office for National Statistics (ONS).
The decrease, which was the largest month-on-month fall since January last year, was driven by a 3.1% decline in new work and a 0.6% downturn in repair and maintenance activity.
Gareth Belsham, director of property consultancy Naismiths said: "Such an abrupt fall in new work is particularly worrying and suggests contractors simply don't have enough new jobs to replace completed projects."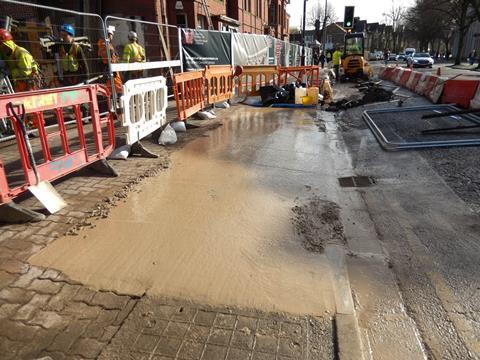 The ONS said the output decline in October 2019 may have been affected by adverse weather. "We received some anecdotal information from a number of survey respondents regarding the effect of this on their businesses, although it is difficult to quantify the exact impact on the industry," it added.
This autumn has been one of the wettest on record leaving sites flooded with the wet weather in September making it the wettest first month of autumn for 19 years.
And at the end of October, the Environment Agency was forced to issue 82 flood warnings and 117 flood alerts with the Midlands the most affected by the wet weather.
Figures for the following month might also be affected by the weather when they are published in January with the Met Office saying that by 17 November, England had already seen 90% of its average rainfall for the month.
Overall construction output fell by 0.3% in the three months to October to £13.3bn, compared with the previous three-month period, driven by a fall of 1.4% in repair and maintenance work.
The ONS said new work decreased in most sectors in October, the biggest hits being suffered by private new housing, down 4.7% month-on-month and 5% down year-on-year, and infrastructure's 6.3% decline, the largest monthly fall in growth in infrastructure since its 6.6% month-on-month fall in February 2018.
Public housing and private commercial were the only sectors within new work to see increases, growing by 4.1% and 0.5% respectively, the ONS added.
Scape chief executive Mark Robinson added: "The industry has been spiralling towards a recession since the Brexit vote and it can only take so much more bad news. A lack of clarity over immigration and trade policies, as well as ongoing economic uncertainty, has forced construction bosses across the country to pause existing projects."
New orders scraped into growth – up by 0.3% – in the three months to September, following a dramatic 14.5% slump in the second quarter.
The rise in the three months to September was driven by an 8.2% increase in new housing, being offset by a 3.5% fall in all other work.