Row centred on disputed bonus payments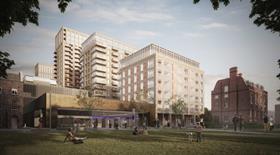 The dispute between Balfour Beatty and the electricians working on its Woolwich Crossrail site has come to an end.
A spokesperson from union Unite told Building that it had reached an agreement with the contractor this week.
The spokesperson said: "We have had a breakthrough and a resolution to the dispute this week, the workers will receive an increased monthly bonus and up £250 to cover lodging costs when they are made redundant."
According to Unite, January bonuses had been restored in full as had half of the February bonus. The union had claimed the contractor had deducted workers' bonus payments from their wages in response to the strike action.
Building understands that deducting workers' bonus payments if strike action took place in more than one week in a month was part of the original site agreement.
A spokesperson from Balfour Beatty said: "Balfour Beatty can confirm that following continued engagement with our Balfour Beatty Kilpatrick workforce of electricians on the Crossrail Woolwich site and Unite, we have reached an agreement that is acceptable to all parties."
Strikes took place on 10 and 31 January, 8 February and 7 March. Strikes scheduled for 14 and 21 February were called off to allow for additional negotiations.
The dispute involved 76 electricians employed by the contractor's M&E arm, Balfour Beatty Kilpatrick, on the job.
The Woolwich station (pictured), designed by architect Weston Williamson, is the penultimate stop on the Crossrail line in the east. Services from the station are due to be up and running this December.