Contractor said compensation talks between its partnership with Galliford Try and Transport Scotland are continuing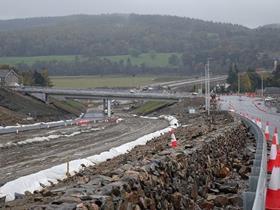 Balfour Beatty expects to sign off on the much-delayed Aberdeen road job this month, and confirmed it is still in talks with Transport Scotland over claims on the scheme.
Running more than a year late due to building work being hit by atrocious weather, the Aberdeen Western Peripheral Route has been completed but contractual wrangling has led to further delays.
In a trading update Balfour said its Aberdeen Roads partnership with Galliford Try was continuing what it called "a dialogue" with Transport Scotland on a commercial agreement in relation to associated claims on the job. The pair has previously said delays had cost them £4m.
The consortium, featuring the pair and now-bust contractor Carillion, signed a contract to build the bypass back in June 2014 under a lump sum fixed price contract worth £533m.
Balfour also said it expected to hit what it called "industry standard margins" of between 2% and 3% on its UK construction operation in the second half this year.
It was also expecting to report a £65m profit from disposals of infrastructure investments throughout the year, including a partial sale of 80% of its Edinburgh University student accommodation PPP project for £24m, while the profit margin in its support services operation, which generated around a fifth of its total pre-tax profit in 2017, was said to be improving within its 3% and 5% target range.
The group's year-end order book was forecast to be around £12bn, 5% up on 2017, while its year-end net cash was expected to be "broadly in line" with last year. The average monthly net cash position for 2018 was forecast at £185m, ahead of the previous £140m to £170 million guidance range.
Balfour's chief executive Leo Quinn said the business was on track to deliver its Build to Last Phase Two goal of achieving industry standard margins in all earnings-based businesses in the second half of 2018.
"The actions we have taken since the start of 2015 have created a strong foundation for the future. We have consistently invested in our capabilities, systems and leadership while de-risking the business, strengthening the balance sheet and selectively building the order book."
Cenkos analyst Kevin Cammack said Balfour Beatty's raids on its PPP portfolio would, like last year, give its next set of numbers some extra "oomph", but he added that these were "chastening times for contractors and it cannot be denied that under Leo Quinn's leadership Balfours has been a relative rock".
Last year Balfour Beatty reported a pre-tax profit of £196m on turnover of £8.2bn. It plans to publish its annual results for 2018 on 13 March 2019.