Balfour Beatty and Galliford Try say project's contract runs to 'thousands of pages'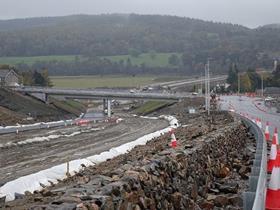 The final stretch of road on the Aberdeen bypass will open this week despite having been finished in the summer – a delay which contractors Balfour Beatty and Galliford Try say has cost them £4m.
Stephen Tarr, managing director for major projects at Balfour Beatty, said the road had been physically complete since August but its opening had been held up by contractual wrangling.
It came as the pair revealed the scale of the utility diversions they were having to deal with, telling Scottish MSPs they were having to carry out so many that it has averaged one every 200m across the entire 58km length of the road.
Balfour Beatty and Galliford Try said a provision in their contract with Transport Scotland meant they were unable to hand over the road until remedial work on the River Don bridge was completed – which is not expected until Christmas.
And Brian Love, director of the JV vehicle Aberdeen Roads, which includes Balfour Beatty and Galliford Try, said such was the "spider's web of contracts" on the project that it ran to "thousands of pages" all of which needed to be agreed by multiple stakeholders.
Sitting before the Scottish parliament's rural economy committee last week, representatives from the project revealed the road could now be opened as all parties, including lenders to Balfour Beatty and Galliford Try, had agreed a tweak to the contract.
Conservative MSP Peter Chapman asked whether they had held back from opening the road as leverage for getting compensation.
But Galliford Try's chief executive for construction, Bill Hocking, said arguments over the contract had cost the builders millions.
He added: "The delays in opening the stretch between Stonehaven, Charleston and Craibstone that will open [this] week will have cost us about £4m."
Aberdeen Roads is pursuing a claim against Transport Scotland for delays it said were out of its hands on the 300-plus utility diversions it needed to carry out. It said utility firms should be responsible for the bill which included sorting out electricity cables, water pipes and telecoms.
Aberdeen Roads said there were so many utility diversions to carry out that contractors were on average coming across one every 200m across the entire length of the 58km road.