Firm brands business plan "too risky" after consultation with major shareholders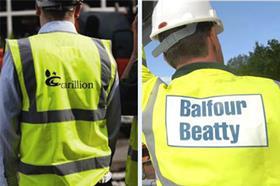 The Balfour Beatty board has rejected the latest offer made to buy it by rival Carillion, it said in a statement today.
The firm said it had consulted major shareholders before deciding Carillion's proposed business plan was too risky, and that it could not accept Carillion's intention to halt the sale of Parsons Brinckerhoff.
Balfour Beatty said the Parsons sale, for which WSP is thought to be the front runner, is "reaching a successful conclusion".
Balfour Beatty said in a statement that it will not seek to extend the deadline for a firm bid by Carillion under stock exchange merger rules, which currently expires at 5pm tomorrow (Thursday 21 August).
The firm's statement said Carillion's revised offer, made yesterday afternoon, was "only a small value change in the terms compared to the proposal from Carillion rejected on 11 August 2014".
Balfour said yesterday's offer valued Balfour at £1.87bn, an increase of £55m on the previous bid.
Balfour said it would continue to execute its existing business plan, including the sale of Parsons Brinckerhoff at a price high enough to generate £200m of capital to return to Balfour Beatty shareholders.
Carillion yesterday said its revised offer represented a premium of 30% to the closing share price on the day before the bid was first announced, and 22% to the closing share price on 18 August 2014.
If its merger plan is successful, Carillion confirmed it would terminate the sale process for Parsons Brinckerhoff.
Balfour Beatty's rejection increases the likelihood Carillion will have to launch a hostile takeover in order to merge with Balfour Beatty, something that has rarely been seen amongst UK major contractors.
Balfour Beatty's share price had fallen 7% to £2.38 in early trading on Wednesday (20 August) following the rejection of Carillion's latest offer. Carillion's share price also fell 3% to £3.26 following the news.
Stephen Rawlinson, analyst at Whitman Howard, said Balfour's rejection of Carillion "may be the final word" in the merger saga.
However, he added that the two grounds on which Balfour had rejected the offer "do not look to us to be based on firm ground".
He said: "Balfour claims that Carillion's proposal carries considerable risks, citing the proposed downsizing of UK construction.
"Assessing risk is a matter of facts and judgements of course but as outsiders it seems to us that the Carillion plans, including circa 50% of revenue arising from services (on long term contracts) will create a business with much lower levels of risk than Balfour's plans which are biased strongly towards contracting in the UK and the USA."
He said Balfour Beatty had "failed for some years to tame" its regional contracting business in the UK and grow its utilities and power operations.
Rawlinson added: "This is increasingly looking like an opportunity about to be missed by Balfour Beatty as far as we can see. The share price will no doubt reflect that over the coming months.
"The process may however galvanise the management at Balfour Beatty to make changes that were not possible before, though to date the solutions we have heard to improving operations are not as radical as might be needed."
Andrew Gibb, analyst at Investec, said Carillion's offer yesterday "feels like the last throw of the dice".
But he said he still expected Balfour Beatty to do some sort of merger or sale in the near future.
He said: "I fundamentally believe that this is a business being dressed up for the shop window. The board of Balfour Beatty are keen to dispose of Parsons Brinckerhoff and put a new valuation up for the investment portfolio to tempt in other bidders because the job in hand to turn around the UK construction business is significant and there will be further bumps in the road."
However, Andy Brown, analyst at N+1 Singer, said he expected Carillion to come back with a further offer.
"I would have thought that it makes sense for them to explore if they can go hostile," he said.
Brown added that as yesterday's offer already represented a premium on the current Balfour Beatty share price, according to Carillion's calculations, Carillion may "not need to up the price particularly" to have a successful hostile bid.