But NHS trust still waiting on government to sign-off contract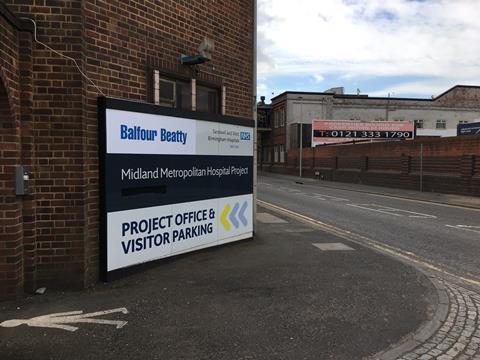 Work will restart before Christmas on the Midlands hospital left in limbo by Carillion's collapse last year – despite the scheme having still not been signed off by the government.
Papers released ahead of this Thursday's meeting of the Sandwell and West Birmingham Hospitals NHS trust said Balfour Beatty, the trust's preferred bidder, will begin the work to complete the job this winter.
The trust said it wants the Smethwick hospital to open in time for the start of the Commonwealth Games which are being held in the city in summer 2022.
Trust chief executive Toby Lewis said: "Work continues with Balfour Beatty to be ready to restart work in December.
"This timetable will allow us access to develop the building in early 2022 and the chance to open before summer 2022 and Birmingham 22, the Commonwealth Games."
The trust first said it wanted Balfour Beatty to get the hospital up and running by the games earlier this summer with the pair eventually agreeing to get practical completion on the job by the middle of February.
The trust had originally said it was hoping for a December 2021 deadline with Balfour Beatty wanting April 2022 instead.
Lewis said it was set to finally get sign-off from the government for work to re-start by the middle of this month.
He told the board: "Approval of permission to sign a contract for Midland Met is still awaited and was due initially in August and is now expected by mid-October.
"All the necessary funding is in place and the approval required is simply the commercial go-ahead."
Lewis also said the site would make use of modern methods of construction, with the programme expected to utilise a range of technologies.
He added: "The build will make more extensive use of robots than any other UK hospital and a programme to support that technology is in place."
From 2020, staff will have access to augmented reality simulations of the building so they can begin to think through what working there will be like.