If shareholders fail to back sale of consultant, Balfour says it could come close to breaching its banking covenants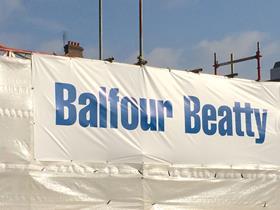 Balfour Beatty has warned its shareholders that should they fail to back the sale of its consultant arm Parsons Brinckerhoff the contractor could edge close to breaching its banking covenants.
In a circular to shareholders, issued on Friday, Balfour Beatty set out its strategy for the sale of Parsons for £820m to Canadian-based consultant WSP.
The sale of Parson will see Balfour return "up to £200m" of the proceeds to shareholders, with £85m used to reduce the group's pension funds deficit and a further £80m swallowed up by transaction costs.
The remainder will be retained by Balfour to "ensure a strong balance sheet and provide increased financial flexibility".
However, the firm warned that should shareholders fail to back the sale, the firm could come close to breaching its banking covenants.
The warning comes amid a dire period for the contractor, which has issued five profit warnings in less than two years, with the firm's shareprice sinking to the lowest level since 2003.
In the circular, Balfour Beatty said: "If shareholders approve the transaction and the company receives the net proceeds, some of those proceeds will be used to pay down existing debt in the group, leaving the balance sheet of the group in a stronger position with a reduced level of net indebtedness.
"If shareholders do not approve the transaction, the group is expected to have less headroom on net debt to EBITDA covenants given as part of its funding arrangements.
"In this scenario, should there be a further modest deterioration in the profitability of the Group, and in the absence of any mitigating action, there may be a breach of the net debt to Ebitba covenants when they are tested against the 2014 annual results and in 2015."
The firm added: "If the transaction does not proceed, the board would therefore need to consider alternative ways of raising and/or conserving cash and improving Ebitda, in order to strengthen the balance sheet and provide sufficient headroom for covenant purposes."
Balfour Beatty said it had "a number of mitigating actions which can be taken to address the potential risk of such a covenant breach", including accelerating the sale of investments.
Balfour Beatty added: "The board believes that such disposals could be completed within a timeframe which is both reasonable and will provide effective mitigation.
"The sale of investment assets could also be supplemented by other steps to conserve cash, which could include cancelling, reducing or postponing dividends if necessary.
"Given the mitigating actions that are available, the board considers the risk of a covenant breach and consequent event of default, if the transaction does not proceed, as unlikely."