Andrew McNaughton sets out action plan to turn around UK construction business after £50m profit warning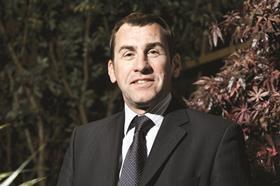 Balfour Beatty's boss is to impose rigorous bidding controls on its £3bn-turnover UK construction business after seizing the reins of the division in the wake of a £50m profit warning this week.
Balfour Beatty group chief executive Andrew McNaughton (pictured), who only took over from departing chief executive Ian Tyler last month, said he would take direct control of Construction Services UK (CSUK) with immediate effect, following a trading update that warned that profit in the business this year would be £50m less than forecast in March, at the time of the firm's full-year results.
Speaking to Building this week, McNaughton said he would work with Mike Peasland, who is stepping down from his role as CSUK chief executive to take charge of the regional business, to implement an action plan around the business, which he said was now expected to "broadly break even" this year following the £50m hit.
CSUK reported revenue of £3.18bn in the year to 31 December 2012 - down 6% on 2011 - with a loss of £37m, largely because of one-off restructuring costs resulting from the wide-ranging shake-up last year that saw six operating companies reduced to one and regional offices cut from 75 to 37.
The firm expects revenue for CSUK to fall 20% in 2013 to around £2.55bn, down 35% on the £3.89bn the firm posted in 2009.
McNaughton told analysts this week the action plan would include imposing rigorous bidding controls across the business, with the firm focused on bidding at margins of 2% and upwards. But he declined to say if parts of the firm would be closed down, saying: "Clearly we've got to examine all elements of the business as to where we think future profitability is going to be."
Duncan McGrath, chief financial officer at Balfour Beatty, added: "There are bits of the UK regional market that may not be able to support an overall 2% business, but certainly not all of it."
Asked by Building if Balfour Beatty would withdraw from the building market due to the fierce competition and low margins, McNaughton said that was "conjecture".
He said: "We have a long heritage in building and in civil engineering and as markets change we have to look at each one of those sectors to understand what we're going to continue to bid."
"The issues that we're seeing are a result often of huge competitions going on at the moment and I'm going take the decisions as to whether to bid or not bid on a case-by-case basis."
McGrath said the £50m hit to profit would be confined to this year, as the 100 or so regional projects affected were shorter-term in nature, but conceded there could be a further impact on next year.
He said: "Saying how much of the £50m will repeat next year is a very difficult question, clearly not all of it and hopefully not a substantial part of it, [but] there could be an element that carries on."
He said the regional business still had around 70% of its 2014 order book to fill, which would now be subject to the greater rigour and strict controls the firm was imposing.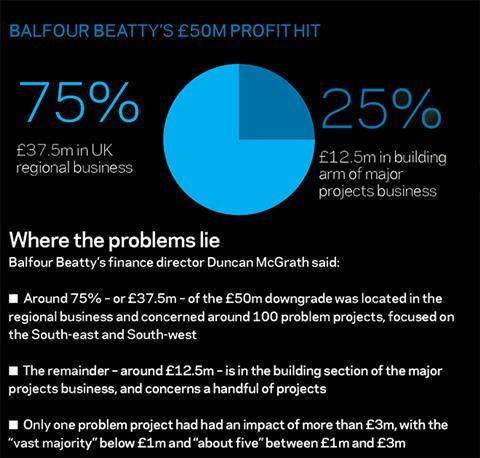 UK problems divert Balfour Beatty from global strategy
The problems in Balfour Beatty's UK construction business will see the firm reining back on its push to become a global economic infrastructure giant, at least in the short term, the firm's boss has conceded.
Speaking to Building, Andrew McNaughton, Balfour Beatty group chief executive, said taking the role of UK construction chief executive would mean that he had to take some of his focus off the group's global operations, although this would be mitigated by moves to free up senior management capability in other parts of the business, particularly in the US and emerging markets.
"I'm certainly not giving up the role that I have in terms of the [Balfour Beatty] Group, but you will understand that some of the things that I would have wanted to push on I'm going to have to rein back a little on," he said.
He said this would include the implementation of the country model, where each part of the business comes under direct control of each country's head office, as well taking "a short while to assess US actions to make sure they remain appropriate".
Kevin Cammack, analyst at Cenkos Securities, said it was right for McNaughton to step in and sort out the problems in the UK business. "Frankly he cannot duck the first real operational challenge to his reign as CEO and if it means holding back for a few months on the wider strategy, so be it."


Mike Peasland to leave Balfour Beatty by the end of the year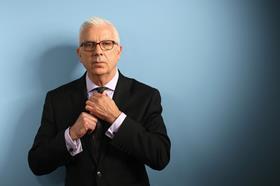 Balfour Beatty's demoted UK construction boss Mike Peasland (pictured below) is to leave the company by the end of the year.
Balfour Beatty confirmed this week that Peasland, who was replaced this week as chief executive of Balfour Beatty's UK construction business by Andrew McNaughton, the group chief executive, would depart by the end of the year.
The firm said the decision predated the internal review of the UK construction business, which led to a £50m profit downgrade (see story above).
McNaughton is expected to remain in the dual role of group chief executive and UK construction chief executive until the end of the year, when a new management team for Construction Services UK is expected to be in place.
A Balfour Beatty spokesperson said McNaughton and Peasland, who joined Balfour Beatty in 1970, would work together "to develop a transition plan for the leadership of CSUK which we expect to be concluded by the end of the year".
Peasland's exit will follow that of Steve Waite, managing director of the regional business, where around £38m of the £50m downgrade is concentrated (see graph above). Waite left with immediate effect this week.
Bob Clark, managing director of the major projects division, which is responsible for around £12m of the downgrade, remains in his role.
Balfour Beatty has not ruled out further departures.
McNaughton conceded that the wide-ranging restructure the business has been being implemented since last year had had an impact on operational delivery within the regional business.
He said new management teams had failed to get to grips with their project portfolios and failed to impose the required bidding controls.
"During the transition period … we've fallen short on our normal standards of operational delivery and some of our management rigour" he said.