Firm sole winner on latest civils deal which has gone up £600m in value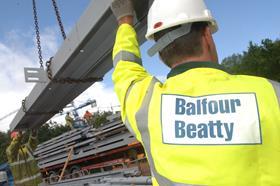 Balfour Beatty has pulled off a coup after picking up a brace of civil engineering frameworks worth a combined £2.1bn.
The country's biggest builder has been appointed by procurement specialist Scape to the two contracts which cover England, Wales and Northern Ireland – worth £1.6bn – and a separate one covering Scotland.
The new frameworks formally begin next January and will last for four years.
Balfour Beatty was the incumbent on the previous four year deal which covered the whole of the UK and had a value of £1.5bn.
But with a pipeline of civils work coming up in Scotland, Scape decided to split the latest deal into two.
Scape declined to say who Balfour Beatty beat but more than 70 firms attended a market awareness day when the latest deal was put up for grabs.
The framework will be used mainly by public sector clients although private sector companies have an option to use it as well.
The value of jobs being let under the deal ranges from £50,000 to £100m.
Since its launch in 2015, the framework has been used on more than 130 civils jobs including roads, bridges and flood defence work.