Contractor posts overall £304m pre-tax loss, as UK problems including dire M&E division results bite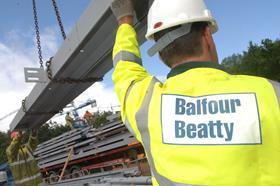 Balfour Beatty's UK construction arm has slumped to a £317m operating loss for 2014, dragged down by problem jobs and dire results in its M&E division.
The UK construction division's operating loss was up 16-fold on the previous year's £20m operating loss.
Balfour's UK M&E division, known as engineering services, crashed to a £137m operating loss on just £183m of revenue, meaning it loss 75p on every £1 of business. This compared to a £11m operating loss on £212m revenue in 2013.
The engineering services loss was so great that Balfour reclassified a third of the business, accounting for £66m in revenue and an £88m operating loss, as "non-underlying", meaning losses on these contracts will be reported separately by Balfour through to completion on the grounds they "distort the underlying performance of the group", Balfour said.
Separating out the "non-underlying" engineering services contracts, Balfour's UK construction arm reported a £229m operating loss, up 11-fold on a £20m loss the previous year, while revenue declined 6% to £2.35bn, down from £2.51bn.
The firm said it had made a further £118m writedown prompted by UK construction losses "following an assessment of the existing risk provisions by the board".
Balfour's global construction services divison reported a £391m operating loss, compared to a £103m operating loss the previous year.
Setting aside all losses Balfour classed as "non-underlying" - including the UK engineering services losses and some overseas, including £53m of losses related to Rail Germany, which it is exiting - the global construction division reported a £209m operating loss compared to an £18m operating profit the previous year, on unchanged global revenue of £6.6bn.
Balfour's US and Far East construction divisions were profitable - making operating profits of £29m and £12m respectively - and the Middle East made a £15m operating loss.
Balfour Beatty overall slumped to a £304m pre-tax loss for the year, compared to a £49m pre-tax loss in 2013, while revenue was £8.8bn, down marginally from £8.9m.
The firm said it made an after-tax loss of £59m - which includes finance costs and the impact of discontinued operations, and was a lower loss than it might otherwise have been thanks to a £234m gain from the sale of Parsons Brinckerhoff to WSP during the year - compared to a £25m loss the previous year.
The firm cancelled its final dividend payment for the year.
Balfour chief executive Leo Quinn (pictured) said the firm had "major short term challenges". He said: "Over the next two years we should work through the severe legacy of "problem" construction projects. However, in tackling the cultural change required to ensure these issues are behind us, we face major short-term challenges.
"The key is that we are determined to address this through self-help. Our transformation programme, Build to Last, is gaining rapid traction and we are driving initial improvements of £200 million cash in, £100 million cost out over 24 months. In addition, our Investments portfolio will provide the financial flexibility of both reliable income and the sale of maturing assets into a strong market.
"I remain convinced that all our operations can achieve industry-standard performance as markets improve. The real prize is a sustainable return to profitable growth, built on the Group's unique capabilities, underpinned by leaner, stronger processes and flawless execution. Longer term we believe that as a leader in its core markets Balfour Beatty should be able to deliver superior returns to the benefit of its customers, employees and shareholders."
More to follow…