Ed Balls has warned that a future Labour government could scrap the proposed high-speed rail line to the north of England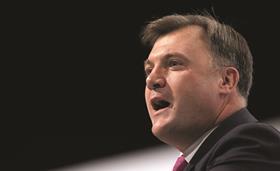 In his speech to the Labour Party conference in Brighton today, Labour's shadow chancellor said the party remained committed to the "idea of a new North-South rail link" but questioned if spending £50bn on the high-speed rail line was the right priority.
The warning comes after government revised the cost of HS2 from £33bn to £43bn earlier this year, with a further £7.5bn for the cost of the rolling stock. Last month Balls said there was "no blank cheque" for the project, and Labour would withdraw its support if the costs did get out of control.
But today Balls went further and hinted that a future Labour government could consider scrapping the project.
He said: "Under this government the High Speed 2 project has been totally mismanaged and the costs have shot up to £50bn.
"David Cameron and George Osborne have made clear they will go full steam ahead with this project – no matter how much the costs spiral up and up. They seem willing to put their own pride and vanity above best value for money for the taxpayer.
"Labour will not take this irresponsible approach. So let me be clear, in tough times – when there is less money around and a big deficit to get down – there will be no blank cheque from me as a Labour chancellor for this project or for any project.
"Because the question is - not just whether a new High Speed line is a good idea or a bad idea, but whether it is the best way to spend £50bn for the future of our country."
Balls' latest comments followed increasingly sceptical public statements by other senior Labour figures previously in favour of HS2, including Lord Mandelson, a former business secretary, and Alistair Darling, who approved the project while he was chancellor.
Following Balls' speech, Labour's shadow chief secretary to the Treasury Rachel Reeves told the BBC's World at One that a Labour government would "cancel [HS2] if we do not think it's good value for money".
She said: "We have to be certain that that is money well spent and at the moment the costs just seem to be going up and up and up - David Cameron and George Osborne not getting a grip on that spending.
"We're saying there will be no blank cheque, the price cannot continue to rise and expect that taxpayers just foot the bill.
"We would cancel if it we did not think it was good value for money and the costs continued to rise. The government have got to get a grip and get the costs under control."
In his speech, Balls also said a Labour government would set up an independent Infrastructure Commission, as recommended by the Sir John Armitt, the former chair of the Olympic Delivery Authority, "to end dither and delay in infrastructure planning".
Balls also hit out at the government's Help to Buy scheme, which he said was driving up house prices by boosting demand while the government was doing little to boost supply. "It's basic economics. If you push up housing demand, but don't act to boost housing supply, all that happens is that you push house prices up and up," he said.
"And the end result is that the very people your policy should be helping – young first time buyers - will find it even harder to get on the housing ladder."
Ball also attacked the government for cutting infrastructure investment in 2015 and reiterated his call for £10bn in infrastructure investment to be brought forward to fund the construction of 400,000 affordable homes.
He also said a Labour government:
would legislate for a decarbonisation target for 2030 and unlock billions of pounds in new investment in renewables, nuclear and clean gas and coal technology.
would give the Green Investment Bank the borrowing powers it needs to do its job
would not fund new free schools in areas where there are an excess of school places