Latest win brings total amount of work in recent years to close to £140m
Bam has chalked up its fourth job from an Oxford college in five years with a £36m scheme to redevelop Jesus College.
The latest job (pictured) will see it expand the 1960s college building to create a higher profile entrance to the college.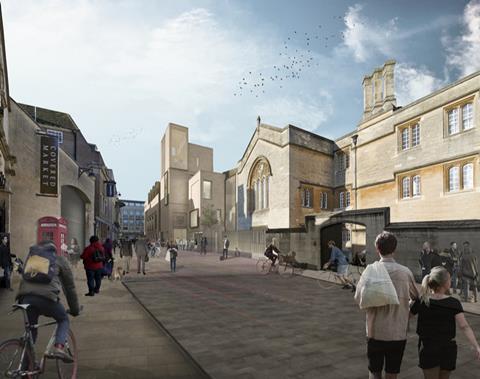 Designed by MICA Architects, it will also deliver new facilities, including a lecture theatre, library, meeting space, digital hub and 68 student rooms.
And Bam will refurbish retail space on Cornmarket Street which is let by Jesus College.
Preparatory works are currently underway, with main construction due to start soon and finish in 2021.
Bam has previously built a £40m scheme for Balliol and a £50m deal at Keble college, as well as a £12m, Zaha Hadid-designed project for St Anthony's College.
Bam was recently appointed to the University of Oxford's capital projects partners frameworks for schemes over £20m, which runs for five years