Scheme in Manchester follows last Friday's Paradise appointment in Birmingham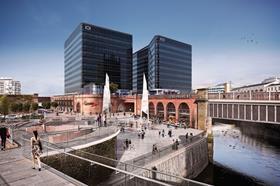 Bam has picked up its second deal in the space of a week to replace bust contractor Carillion on a job, this time to build a £40m office block in the middle of Manchester.
The nine-storey 100 Embankment scheme in the city's Cathedral District is due to be finished by early 2020 and will be built next door to 101 Embankment, completed by Carillion at the beginning of last year and now the headquarters of Swinton Insurance which has moved around 1,000 of its staff into the 10-storey block.
Last Friday, Bam was confirmed as the replacement contractor to finish off the £250m office scheme Carillion won back in 2016 at One Chamberlain Square at Argent's Paradise Birmingham development.
On 100 Embankment, Manchester-based developer Ask Real Estate, which is carrying out the work with joint venture partner the Richardson Family, is understood to have begun scouting out alternative contractors when Carillion first alerted the industry to the severity of its problems with its £845m writedown announcement last summer.
At the time Carillion completed the first block, later sold to M&G Real Estate for £105m, it was the majority shareholder of Ask Real Estate.
But following its profit warning last July the firm began a firesale of assets which included offloading its 66.67% interest in Ask Real Estate last October. It also disposed of its 50% stake in Ask Carillion Developments.
Both were sold to subsidiaries of West Midlands-based Dukehill, a residential and commercial property developer, for £13.8m.
The 100 Embankment building, which was granted planning in July 2016, is located on the site of Manchester's historic Exchange Station and overlooks the city's cathedral. The site sits on the banks of the river Irwell, close to the city's Victoria railway station.
Both buildings (pictured) have been designed by London architect Flanagan Lawrence with Aecom working as cost consultant on the pair alongside project manager CRE8, a local firm based in the city bought by Ridge & Partners three years ago.