Student block was clad in high-pressure laminate panels
The Fire Protection Association has called for the complete ban of combustible material on all buildings, regardless of their height following the Bolton student accommodation fire at the weekend.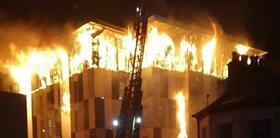 The FPA said the use of high-pressure laminate (HPL) panels "clearly played a large part in the fire's progress, possibly in association with the insulation and cavity membranes present".
And it warned that regulations should be based on risk and not be limited "to the mere height of a building".
The Cube block, a six-storey structure, housed more than 200 students and was understood to be clad in HPL.
Jonathan O'Neill, the FPA's managing director, said: "We must ask again what fire and building regulations have got to do with height. More than two years on from Grenfell, we are still putting vulnerable people at risk.
"Should this incident alone not demand the selection of non-combustible materials, deployment of a believable detection and alarm system and the installation of sprinklers to ensure the safety of those away from home in education?
"This scenario is no different to a school, care home or hospital. Risk is a combination of many factors, of which height is only one."
The use of HPL panels on any building is likely to be called into question, not least since the material was tested by the government over the summer and deemed safer than the ACM material which was used on the Grenfell tower.
The Ministry of Housing, Communities and Local Government said in Advice Note 22, published in July, that it had conducted a BS8414 test of a cladding system comprising an HPL fire retardant rated panel with a European classification of class B-s1, d0, together with stone wool insulation.
The note said: "This system achieved the performance criteria in BR135. The view of the Expert Panel is that this combination of materials can be safe on existing buildings, although as with other cladding systems this is also dependent on how it is fitted (including the installation as a whole system, extent and arrangement)."
But it also said "systems using HPL panels of a European classification of Class C or D are very unlikely to adequately resist the spread of fire. Also, systems using any type of HPL panels (Class B, C or D) with combustible insulation are very unlikely to adequately resist the spread of fire."
The note goes on to say that it was the view of the government's Expert Panel "that the level of risk from unsafe HPL systems is not as high a risk as unsafe systems using ACM Category 3 panels", which featured in the Grenfell tower fire which killed 72 people in 2017.
Meanwhile, the Fire Brigades Union (FBU) called for a "complete overhaul" of UK fire safety in the wake of the Bolton fire.
FBU general secretary Matt Wrack said the fire highlighted "the complete failure of the UK's fire safety system. It's deeply troubling to see fire spread rapidly up a building's exterior again, a shocking indictment of the government's shameful inaction after Grenfell."