Work on £33m scheme to start later this year after planning green light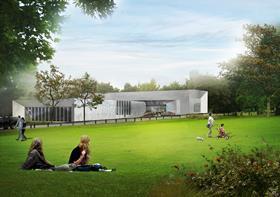 Bowmer & Kirkland will start work later this year after a £33m scheme to build a new swimming pool in Derby was given the all clear.
The new swimming and leisure complex for Derby council has been designed by architect FaulknerBrowns and will cater for casual swimmers, learners' clubs and competition events. It is expected to be completed in 2020.
Demolition of a former sports hall and swimming pool on the existing Moorways site has almost been completed.
The state-of-the-art facility, designed in step with its wider parkland setting, will include a 10-lane 50m swimming pool, a family area and a learner pool. Alongside water spaces it will also feature a gym, fitness studios, sauna and steam rooms and a hospitality space.
Planning consultant on the job is Turley.