Details of loan say firm will default if it doesn't make undisclosed margin on scheme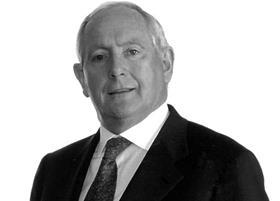 Laing O'Rourke has been told to make a certain amount of money on a problem contract – or face defaulting on the terms of a new bank loan.
Chairman Ray O'Rourke (pictured) told senior staff last week that it had struck a deal with its banks to strengthen its balance sheet.
The new facilities will run until October 2018 and were agreed earlier this month as part of a plan to revive the fortunes of the contractor.
In annual results filed at Companies House for subsidiary Laing O'Rourke Holdings, the accounts, which were signed off on the day it agreed the refinancing, state that "during 2015 the group experienced challenging financial and trading circumstances in particular in respect to certain problem contracts, which culminated with the group being refinanced on April 14 2016".
They add: "A number of new banking covenants were established, including covenants relating to liquidity, tangible net worth and the requirement that the estimated final margin on a specific project is not below a certain amount." It said breaking the covenants "will constitute an event of default".
A Laing O'Rourke spokesman said it would not comment on the project in question but added: "We are pleased that our financial stakeholders have shown significant support for our business plan by agreeing additional facilities through to October 2018.
"In agreeing these new facilities it is standard practice to identify appropriate business risks and opportunities."
Laing O'Rourke has promised an update early next month on the disposal of its Australian arm – with the money raised set to be ploughed back into its UK business – as well spelling out further details of a major restructure which will see 200 staff axed.