Debt restructuring deal preferred after Horizon's £335m bid for housebuilder deemed too low
A committee of Crest Nicholson's banks was today expected to take another step towards ditching plans to sell the housebuilder to Horizon, the listed bid vehicle of former Pizza Express owner Hugh Osmond.
According to a source close to the sale talks, unless Horizon increases its estimated offer of about £335m to nearer £400m, the deal will effectively be off.
Instead, the 40 banks that own 90% of Crest after a £600m debt-for-equity swap last year, are expected to favour a refinancing of the company and an exit when the market recovers in three to four years.
Building understands that Morgan Stanley, which is advising the housebuilder on its options, estimates that Crest will be worth between £490m and £600m in three to four years if
it refinances and becomes active in the land market.
A source said: "The likely outcome will be that the banks sit tight and the company refinances. It is not under any pressure to sell and the strong desire is to get the best value for shareholders in the medium term."
Talks with Horizon, which began in April, have stalled as the housebuilding market has been hit by fears of a double dip recession and the drying up of funds from the Homes and Communities Agency. The share prices of listed housebuilders have fallen by between a quarter and a third in the past three months (see graph).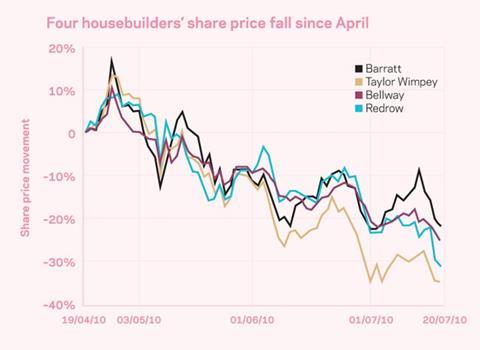 Horizon is understood to have insisted on sweeteners in the deal as the market fell but the main stumbling block has been the price. The source added: "It's a bit of a game of cat and mouse between Crest and Horizon. Crest hasn't shut the door completely on the deal yet but there is only a very small chink of light."