Bank is suing the consultant for £5.7m claiming its work on Gloucestershire project led to huge repair bill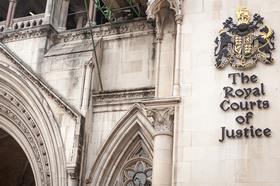 Global banking giant Barclays is suing consultant Hurley Palmer Flatt for £5.7m over the design of a £66m data centre in Gloucestershire, which it claims led to numerous problems and a multi-million pound repair bill.
Hurley Palmer Flatt (HPF), which was paid £1.4m for work on the scheme, fended off a possible adjudication with Barclays over the 7,000m2 data centre in Barnwood last October, but Barclays has now taken the matter to the High Court.
According to Barclays' claim and HPF's defence, both filed at the High Court and seen by Building, the dispute centres on alleged defects in HPF's design of a chilled water system used to prevent servers in the data centre from overheating.
According to both sides, HPF was design team leader on the project.
In Barclays' claim, the bank alleges HPF's "negligent" design led to "numerous failures" of components in the chilled water system once installed, which meant Barclays was unable to use the centre to full capacity and additionally had to undertake costly remedial works to correct the issues.
HPF strenuously denies claims of negligence.
HPF claims any problems with the chilled water system that arose were not caused by failures in HPF's design, and additionally that although it was design team leader, the design was "largely but not exclusively the responsibility of HPF".
HPF claims it was "contractually obliged" to comply with designs for the chilled water system drawn up by M&E consultant MEIT, which it says was employed by Barclays prior to HPF's involvement. MEIT denies HPF's claim, saying HPF had "full responsibility" for the design.
HPF further claims Barclays' remedial works were "excessive" and that any problems with the chilled water system could have been rectified more cheaply and more straightforwardly by simply modifying or replacing water pumps.
Laing O'Rourke subsidiary Crown House Technologies carried out the initial £65.5m contract to build the data centre.
Barclays' £5.7m claim against HPF includes £810,000 for costs incurred due to component failures, £1.2m for increased power consumption costs, £3.1m for remedial works - designed by consultant RED and carried out by contractor Interserve - and VAT and interest costs.
Barclays claims the remedial works carried out by Interserve resolved the issues with the chilled water system.
When contacted by Building, HPF and Barclays declined to comment further.
A spokesperson for MEIT, which is not formally a party to the proceedings, said the firm "strongly refuted" the accusation made by HPF regarding the Barclays legal action.
The spokesperson said: "HPF were the detailed designers with full responsibility for all aspects of the design as leaders of the professional team on the project.
"The original design brief was guide only and many aspects of the final installation differed significantly from the concept. The liability of the design is fully with HPF."