David Thomas says part of the reason housebuilder shut its offsite factory is that planners and consumers are not keen on the uniformity of design that offsite involves. Dave Rogers talks to the Barratt chief exec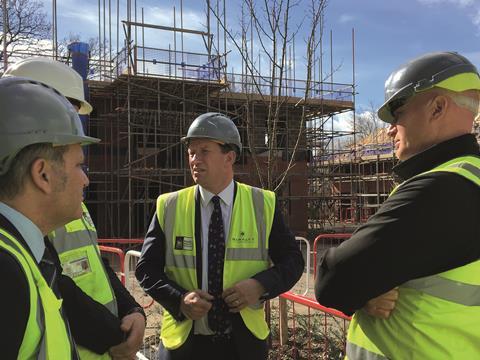 The boss of the country's biggest housebuilder has warned that offsite construction in housing risks producing rows and rows of identikit homes.
Barratt chief executive David Thomas (pictured, centre) said that one of the reasons it shut down its offsite factory operation, called Advance Housing, back in 2007 after just five years was that planners were looking for more variation in design than the eight design options it had on offer.
He added: "That's one of the challenges when you look at developing a full offsite solution and when you look at what's considered to be good design principles. Having very uniform streets of housing is not what the planners are looking for.
"What a factory wants is for things to be very uniform. Apartments are much more easily adapted to being offsite. Uniform is very, very good for offsite. Apartments, typically, are very uniform."
"Having very uniform streets of housing is not what the planners are looking for"

David Thomas
And he said housebuilders have to be aware that offsite homes – which might appeal to the industry – might end up turning away some customers.
"If you talk to anyone who's got a production process, production processes are most efficient where you have significant runs of the same item. Whether it's a car, a cup or a house.
"So if you start varying what you're trying to do, it becomes much more challenging for production. Uniformity is potentially an issue for the consumer."
Thomas said he has no plans to revive its Advance Housing concept or follow the example of Persimmon, which has said it wants to produce its own bricks and roof tiles.
Persimmon, the country's third-largest housebuilder, has said its brickworks factory in South Yorkshire has the capacity to manufacture 80 million bricks a year and will begin making its own roof tiles at the same site.
David Thomas CV
2007: Becomes finance director and chief executive of retailer Game
2009: Joins Barratt as finance director, launching a £720m rights issue
July 2015: Promoted to position of chief executive, taking over from Mark Clare
February 2018: Turns in a record pre-tax half-year profit with the figure jumping 7% to £342.7m for the six months to December 2017
But Thomas said: "We're not tempted to follow the Persimmon route. We're not specialists in that area. The supply chain are the experts. Investing £50m [in a factory] is not necessarily a huge investment but the difficulty is the return profile, how many years can that factory operate at full production."
Thomas said another reason for shutting its Advance Housing operation at Daventry in Northamptonshire was that it had been standing idle for too long. "In the world of offsite, it was the Full Monty – [but] we were simply not getting enough production through the factory."
Barratt expects that by 2020 around 20% of its output – last year the firm had around 17,500 completions – will be from modern methods of construction, such as homes using timber frames and light-gauge steel frames.
Thomas said there is ongoing pressure to find bricklayers and added: "Houses are very much the domain of the bricklayer, not so much with flats because [they use] cladding."
And he said the government's target of building 300,000 homes a year is within reach for the industry. "It's definitely achievable. We built more than that in the sixties and had a good go in the seventies.
"But we need to have more skills, we've got to be employing more people and we've got to start using modern methods of construction."
The firm said it has stopped buying sites in the zone one and two areas of London and is concentrating on zones three to six, where it is building 1,100 units at a former Nestle factory in Hayes and a further 1,500 units close to the railway station in Harrow.
Thomas said the rate of sales in central London has slowed in the past couple of years.
"In zones one and two, two or three years ago, we were selling two or three a week on many of our sites. That's about 1.2 now. It's a combination of slowing demand and a lot more supply."
Help to Buy exit 'must not be cliff edge'
Barratt chief David Thomas has said he expects the government's Help to Buy scheme to be around for some time yet.
The scheme, to encourage building and assist first-time buyers onto the property ladder, has come in for criticism, with opponents saying it has fuelled the share prices of major housebuilders and led to the sort of eye-watering bonuses paid out to executives at Persimmon.
Liberal Democrat leader Vince Cable told Building that bosses at the housebuilder, which last week came in for fierce criticism from its shareholders at its AGM, were "basically pocketing large amounts of money gifted by the taxpayer for executives, which underlined the stupidity of Help to Buy. It does very little good, it has boosted prices, boosted profit margins, boosted bonuses". But Thomas defended the scheme, saying it had stimulated GDP and built more homes.
The scheme, launched in 2013, has been extended to 2021, which Thomas said gave the industry more certainty. "A cliff edge looks like a bad strategy so it's much better that if [the government] are going to exit [from Help to Buy] we have some managed programme that allows us to exit in a structured way.
"If they're going to look for a managed withdrawal, they need a reasonably long extension. There's no point extending it for 18 months and calling that a managed withdrawal. That's just a slightly less steep cliff. I think they'll approach it sensibly, they know how powerful it's been."