Strong market demand and completions boost UK's largest housebuilder
Barratt says its pre-tax profit for the year will be at the "top end" of its previous expectations thanks to strong market demand and increased completions.
The United Kingdom's largest housebuilder, in a trading update for the year ending 30 June, said its profit before tax is now expected to be around £812m. Analysts had previously given a range of £761m to £812m.
Its adjusted profit before tax, before an adjustment of £107m, will be above the top range of expectations.
Barratt said its pre-tax profit increase was driven by a "rebuild" in completion volumes following the disruption caused by the covid-19 pandemic.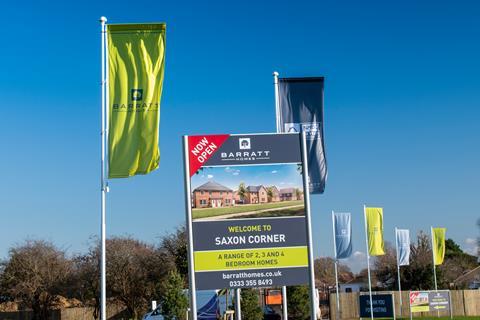 The company completed 17,243 homes in the year to 30 June 2021, improving on last year's figure by 36.8%. The figure is still 3.4% below the 17,856 homes completed in 2019, before the covid-19 pandemic.
Barratt said it expects to return to 2019 volumes in 2022.
See also: Barratt raids Countryside to appoint new chief financial officer
Its average house price sold was £289,000, a 3.1% increase on the £280,300 recorded in 2020.
Its total forward sales at 3 June stood at £3.47bn, up from the £3.25bn in 2020 and an increase of a third on the £2.6bn reported in 2019.
David Thomas, chief executive of Barratt, said: "While these are still uncertain times, we enter the new financial year in a strong position and remain focussed on our medium term targets, including delivering 20,000 homes a year."
However, Barratt also revealed that its cost of carrying out fire safety remediation on existing multi-storey building will jump by £30m to £81m for the year.
It said: "While the charges in respect of cladding and external wall systems reflect our current best estimate of the extent and future costs of work required, as assessments and work progresses or if government legislation and regulation further evolves, estimates may have to be updated."
The company said all of it buildings. including the cladding and external wall systems used, were signed off by approved inspectors as compliant with the relevant Building Regulations at the time of construction.
Barratt' s full results for the year will be published on 2 September.