Turnover and profits have taken a big hit over the past year
Britain's biggest housebuilder, Barratt, suffered a major drop in turnover and profit in the year to June 30 as a result of covid-19, according to its annual results released today.
Revenue dropped by 28% - falling from £4.6bn to £3.4bn - and completions were down by almost a third, falling from 17,856 to 12,604.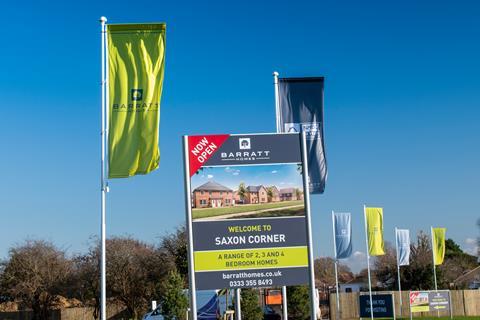 Profit before tax has been slashed by almost half - from £909.8m to £491.8m and the company's cash flow has taken a hit, dropping from £765.7m to £308.2m.
The company was forced to shut down its sites in March, during what is normally the peak of its work in progress. Sites remained closed in England and Wales until May, and those in Scotland did not start to reopen until June.
The direct costs of coping with lockdown and reopening sites amounted to £45.2m, with a further £29.1m "related to the expected increase in site durations due to covid-19."
Barratt furloughed 85% of its staff but due to its "resilient" financial position "made the decision in July 2020 to return the CJRS funds received of £26m."
The company did not pay out any dividends to its shareholders last year and "given the unprecedented impact of covid-19 and the importance of a resilient balance sheet, it will no longer propose the FY21 special dividend of £175m which would have been payable in November 2021."
David Thomas, chief executive at Barratt, said: "While covid-19 has had a significant impact on our results, our priority has been to keep our people safe, mitigate the effect of the pandemic on our business and be able to emerge from the crisis in a resilient position."
He added: "Although uncertainties remain, all of our sites are operational, we are seeing very strong consumer demand and our robust financial position means we enter the new financial year with cautious optimism."
But John Allan, chairman, Barratt, warned of the wider impact on the economy from the pandemic.
"It is likely that there will be an increase in unemployment in the coming months as businesses continue to be impacted. The full extent of the economic impact being caused by covid-19 is yet to become fully clear, and there remains uncertainty regarding the outcome of the ongoing negotiations regarding the UK leaving the EU," he said.
On a more positive note, Allan said the "long term impact of the pandemic on people's choices and priorities will be an increase in demand for the high quality homes that we provide as consumers look for more space both indoors and outdoors."