Housebuilder also reports 5% rise in average selling price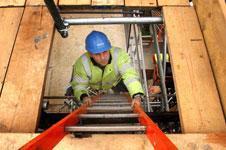 Housebuilder Bellway has seen a 19% increase in its weekly sales rate in the last four months when compared to the last year, it reported today.
The firm also reported a 5% increase in average selling price to £190,400 between 1 February and 31 May when compared to the same period last year.
It said it had achieved this despite reducing the amount of properties offered on a shared equity basis to 8% of reservations over the period. Although it added that other sales incentive schemes remained in place.
In a statement to the stock market it said: "Assuming consumer demand and the availability of affordable mortgage finance remain unchanged, then the group's capacity to grow geographically, combined with a strong balance sheet, mean that Bellway is well positioned to continue its three pronged strategy of increasing volume, average selling price and operating margin."
The firm added it had already achieved its target of a 5% growth in sales in the year to 31 July 2012, when compared with the previous year. Bellway said it expected to achieve an opperating margin of 11% over the year.