The housebuilder, however, admitted the outcome of the general election had created some uncertainty around the government's housing policy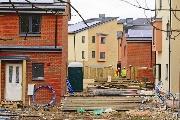 Bellway is confident volume growth will approach 10% this year, with no sign of a spring election slowdown.
In its latest trading update, the housebuilder said:"Customer demand for new homes remains strong across all regions and has increased throughout the spring, in accordance with the usual seasonal trend, unabated by any uncertainty in the weeks preceding the recent general election."
The firm, however, admitted that the outcome of the general election had provided "a degree of instability" over the government's housing policy, although all political parties have recognised the need for more housing.
Bellway added that it was also mindful of the wider uncertainty surrounding Brexit, but said it was well placed to continue with its strategy of of disciplined volume growth
The firm's board expects operating margin for the full financial year to be slightly above the 22% posted in the previous reporting period and completions for the 12 months to August should be ahead of its original target.
The firm said the housing market remained positive supported by low unemployment, good availability of affordable mortgages and the continued provision of Help to Buy.
Bellway is in the process of acquiring 15,750 new plots of land and its total order book, of which 70% is contracted, stands at 5,819 homes.
Ted Ayres, chief executive of Bellway, said: "Robust market conditions, together with a clear operational focus, is enabling Bellway to continue increasing its contribution to the supply of much needed new homes.
"We have made a significant investment in land and work in progress over a number of years and this, together with a strong balance sheet and substantial operational capacity for expansion, should ensure that Bellway is well positioned to deliver further volume growth, this year and beyond."