Brexit committee chair says building firms are responsible for ensuring there are enough future workers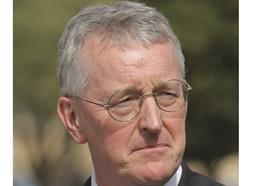 Construction companies must share apprentices to fill a post-Brexit skills shortage, the chair of the Brexit committee of MPs has told Building.
Hilary Benn MP, who was elected chair of the Exiting the European Union select committee in October, said he believed a deal would be struck to allow existing workers from the EU to stay in the UK. However, he warned the industry would have to train an army of British workers to fill vacancies on future construction projects.
The former shadow foreign secretary, who campaigned to remain in the EU, said: "There are, of course, a lot of workers from Europe here already in the UK.
I would expect that, as part of the agreement, a date will be chosen and everyone who was here before that date will get the right to remain, because we will want as a country to ensure that the 1.2 million Brits who are exercising their free movement rights in other countries have the same rights [to stay] made available to them."
However, Benn warned the government would impose restrictions on freedom of movement as part of the Brexit deal. He said this would hit sectors like food processing and construction, which have become increasingly dependent on EU workers in recent years.
Benn, who represents the Leeds Central constituency, said the construction industry had a "responsibility" to make sure there were enough workers because they would no longer be able to "rely on other countries to do the training".
He added that construction companies could provide this training through signing up with apprenticeship training agencies, which recruit and employ apprentices on behalf of employers.
Benn said: "You don't want construction firms suddenly saying: 'We've got a huge increase in demand, construction's booming - that's great, but we haven't got enough plumbers, bricklayers and plasterers and so on.'
"The problem in construction is the fluctuating nature of the industry. A lot of small businesses have said they'd love to take on an apprentice but worry: 'What do I do when I haven't got any work?'
"Leeds' apprenticeship agency takes on the paperwork and bureaucracy – because that's something that employers don't want to do – and makes apprentices available to firms.
"So, in construction, if you've got nothing on now, but somebody else has work on down the road, the apprentice can go there. You recognise the nature of the industry and that different firms have different order books at different times.
"You work as an industry collectively to enable apprentices to be trained so they get their skills and then those skills are available to the future of the industry."
The Brexit committee is considered one of the most influential scrutiny bodies in parliament. Its members include Alistair Carmichael, Michael Gove, Peter Lilley and John Whittingdale, who are all former secretaries of state.