Payment charter launched with clients British Land, Berkeley Group and Barratt Developments among first signatories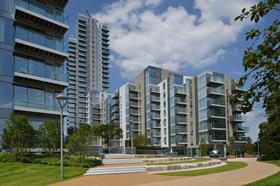 British Land, Berkeley Group and Barratt Developments have committed to holding zero retentions on their construction contracts as signatories to the Construction Leadership Council's payment charter, officially launched today.
The headline details of the charter were unveiled earlier this month.
Signatories to the charter - which also include Laing O'Rourke, Skanska and Kier - will agree to implement 60-day payment terms for their whole supply chain immediately, before reducing this to 45 days from June 2015 and 30 days from January 2018.
The charter's eleven commitments also include a promise from signatories to not hold back retention payments unless such a condition was imposed on them by their clients; make all payments electronically; and to use project bank accounts as standard on government contracts.
As part of the first wave of clients to sign the charter Berkeley Group, British Land and Barratt Developments became committed to using zero retentions immediately.
Contractors that have signed up have also committed to using zero retentions, unless they are working on a project where retentions are imposed on them by a client.
Signatories to the charter will not be allowed to have supply chain finance schemes that have payment terms longer than those specified in the charter.
Supply chain finance schemes involve suppliers paying a small charge to get paid early, such as those that have been rolled-out by Kier, Balfour Beatty, Carillion and Willmott Dixon.
Peter Hansford, government chief construction advisor, confirmed that Carillion would not be allowed to sign the charter because it has made 120 days its standard payment terms.
Several members of the Construction Leadership Council have not yet signed-up, including contractor Midas, Network Rail and engineer Arup.
Hansford said: "I think organisations take a while to change their business models and it's a question of how quickly they can do that."
But he added that "you shouldn't read too much into" the fact that they had not signed-up and he "hoped" all members of the council would sign-up eventually.
He said there were currently no targets or timescales for how many signatories from across the industry he aimed to get.
Suzannah Nichol, chief executive of the National Specialist Contractors Council, said "transparency" about firms' payment practice would need to be a cornerstone of the monitoring and enforcement of the charter.
She added: "Every single person in the industry can turn around [to their client] and say, 'I want to be paid in 30 days and the industry believes that that is right and fair.'"
Philip King, chief executive of the Institute of Credit Management who has had a key role in drafting the charter, said: "I would hope that we would hope to be pushing it out through BIS and the trade associations as where the sector needs to be. Those organisations that have been involved in getting us to where we are now and have an invested interest in pushing it down to their membership."
A separate group will now be set up to devise the monitoring mechanisms and performance indicators for the charter.
Hansford and King agreed it would take "a few months" before the full details of the monitoring mechanisms for the charter were agreed.
King said he hoped the results of the monitoring would be made publically available to give transparency to the charter.
Payment charter signatories
Barratt Developments
Berkeley Group
British Land
Imtech UK
Kier
Laing O'Rourke
Skanska
Stanford Industrial Concrete Flooring
Stepnell
Payment Charter commitments
We will make correct full payment as and when due for all work properly carried out, or products supplied, in accordance with the contract. We will ensure any withholding of payment due to defects or non-delivery is proportionate, and clearly, specifically and demonstrably justified in line with the arrangements set out in the contract.
We will not deliberately delay or unreasonably withhold payment.
For all new contracts we will ensure that payments are made to our supply chain not more than 60 calendar days from the end of the Calendar month in which the work is carried out or products are supplied. From June 2015 we will ensure that payments are made to our supply chain not more than 45 calendar days from the end of the calendar month. From January 2018 that will decrease to not more than 30 days.
Public authorities are already required to pay within 30 calendar days. On central Government contracts, payment will be made to Tier 1 within 14 days, to Tier 2 within 19 days and to Tier 3 within 23 days of the due date, which will be 7 days after the common assessment or valuation date established by the client in the Tier 1 contract.
We will either not withhold cash retention or ensure that any arrangements for retention with our supply chain are no more onerous than those implemented by the client in the Tier 1 contract. Our ambition is to move to zero retentions by 2025.
We will issue any 'pay less' notices at the earliest opportunity and no later than 7 days prior to the final date for payment.
We will have processes in place to enable the effects of contract variations to be agreed promptly and fairly and payments for such variations to be included in the payment immediately following the completion of the varied works.
We will make payments electronically unless agreed otherwise.
We will use Project Bank Accounts on central Government contracts unless there are compelling reasons not to do so and on other contracts where appropriate.
Where Supply Chain Finance schemes allowing members of the supply chain to secure earlier payment are offered, we will not impose fees or costs for receiving payment within the terms set out in the contract.
We will adopt a transparent, honest, and collaborative approach when resolving differences and disputes.