Former chief officer of the Consulting Association was to be key witness in civil claim against Sir Robert McAlpine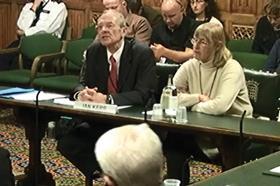 Ian Kerr, the man who ran the construction industry blacklist exposed in 2009, has died, according to the chair of the Parliamentary committee investigating the practice.
Kerr, former chief officer of the Consulting Association (TCA), is understood to have passed away on Tuesday, just a fortnight after he appeared as a witness before the Parliamentary committee investigating blacklisting, the Scottish Affairs select committee.
Building can also reveal that Kerr had been set to be a key witness on behalf of more than 80 former workers who are preparing to sue Sir Robert McAlpine in the High Court as part of a major compensation claim mounted by the Blacklist Support Group.
The workers allege Sir Robert McAlpine was at the centre of a conspiracy to illegally deny them work because they were seen as "troublemakers". It is not yet known what impact, if any, Kerr's death will have upon the case.
Ian Davidson MP, chairman of the Scottish Affairs Committee, said this afternoon: "We offer our condolences to Ian Kerr's wife, family and friends.
"We are glad we gave him the opportunity to come and give his side of the story in evidence to the committee on such a contentious topic as blacklisting."
The solicitor for the Blacklist Support Group, law firm Guney, Clark & Ryan, declined to comment on the news.
During his three-and-a-half hours of evidence to MPs at the end of last month, Kerr claimed that Sir Robert McAlpine had funded the establishment of TCA, hosted its meetings, taken senior positions within it and paid for it to be wound up.
He also said that blacklisting on the London 2012 Olympics took place and was carried out by Sir Robert McAlpine, Balfour Beatty and "possibly Skanska".
In testimony strongly disputed by Sir Robert McAlpine, Kerr told the Scottish Affairs committee that he now believes he wrongly took the "flak" for the misdeeds of TCA in return for Sir Robert McAlpine covering the cost of winding it up, which he estimated ran to between £20,000 and £30,000.
Kerr also said that the founding chairman of TCA was Sir Robert McAlpine director Cullum McAlpine and that its final chairman was David Cochrane, McAlpine's former head of HR.
At the time, a spokesperson for Sir Robert McAlpine said that Kerr had acknowledged that the TCA was established by a "large group" of construction companies and said the firm was not "solely responsible" for its establishment or funding.
She added that the TCA had also been chaired by "representatives of other construction companies" as well as by Cochrane and Cullum McAlpine.
The spokesperson acknowledged the firm had paid Kerr's fine and other costs, adding: "We categorically deny that any payments made to Mr Kerr […] were in any way linked to his taking responsibility or protecting Sir Robert McAlpine Ltd or any member of the Consulting Association."
The parliamentary committee was unable to provide the cause of Kerr's death, and Building has not so far been able to contact his family.