Spread of fire at a flat in Essex attributed to timber frame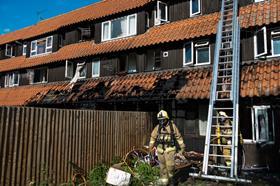 The spread of a fire in a block of flats in Basildon, Essex, last week has been linked to the building's timber frame construction.
The blaze spread to two adjoining buildings, which Essex County Fire and Rescue Service said was "owing to the building's timber-framed construction".
While the full cause of the fire is still being investigated, Essex Fire and Rescue assistant divisional office John Harris said: "Crews did a magnificent job in preventing the spread of fire - with the construction of the flats and the location of the flat where the fire started at the corner of the block, their prompt action undoubtedly went a long way in preventing more damage."
The fire spread to the two adjoining flats and inflicted smoke damage on two further flats.
One woman was helped to escape from the fire by her neighbours.
The use of timber-frames in construction has been increasingly popular among some building designers aiming for more sustainable buildings.
However, efforts to promote timbre frame construction in planning policy have proved controversial with concrete and masonry groups who object to timber's portrayal as more sustainable than other construction materials.