Street outside Bovis Lend Lease-built office taped off due to safety concerns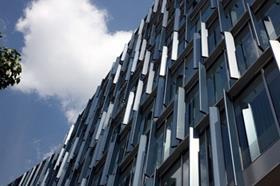 Police cordoned off an area surrounding the Blue Fin Building in Southwark, London, yesterday after a part of the building nearly fell off.
The office block, which is situated behind the Tate Modern, was taped off by police for safety reasons after one of the 2,000 blue aluminium fins - which the building is named after - started to come loose.
No-one was hurt during the incident at the building.
Designed by Allies and Morrison and built by Bovis Lend Lease, the Blue Fin Building is home to a number of media and technology companies including Time Inc UK.
Health and safety technicians used equipment usually used by window cleaners to re-attach the fin, while workers inside offices were emailed stating that there had been a "building issue".
The email said: "Please be aware that we are investigating a piece of loose façade on the south side of the Blue Fin Building. The police have cordoned off the area affected.
"Please note that staff exiting the building on to Southwark Street will be asked to turn left toward the Refinery to avoid the cordoned off area.
"It may be advisable for your staff to leave via the north entrance for the time being."
A spokesperson for Time Inc UK, which owns the building, said: "We had a small incident where a small piece of piece of fascia came loose at the building.
"All the correct health and safety procedures were taken and the area was cordoned off while the original manufacturers were called to fix the problem."