Peter Bonfield review will say insurers must work with construction and government to prepare for floods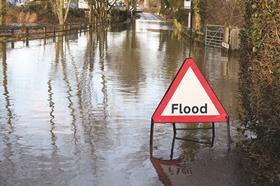 BRE chief executive Peter Bonfield has outlined the recommendations in his forthcoming review into how properties can become more resilient to flooding.
Speaking to Building, Bonfield said his property review calls for improvements to building regulations to encourage flood resistant and resilient construction, and incentives for householders and insurers to better manage the risk of flooding.
The review also recommends a stronger partnership between insurers, surveyors, the legal profession, materials producers and the government to improve preparedness for future flood events.
Bonfield said he had taken soundings from the insurance sector and that his ideas from the review had been well-received.
He said: "Quite a few players in that sector are all collaborating to put [the recommendations] into practice […] that should make a really important difference to properties across the country."
You've got to make sure the review lands with the new ministers and not the old ones

Peter Bonfield, BRE
His review will formally launch later in the year. It comes as the government review into flood defence proposed spending £12.5m on temporary defences such as barriers and high-volume pumps at seven strategic locations around the country.
The National Flood Resilience Review calls for an end to the '1 in a 100 year' approach to flood risk. It urges water, electricity and telecom firms to protect infrastructure like phone networks and water treatment works so they are resilient to extreme flooding.
Regarding Bonfield's other, long-awaited review into government energy efficiency policy – including a replacement for the ill-fated Green Deal – he said the delay was down to a change in government ministers.
Bonfield said: "[The review] has been ready for ages, but you've got to make sure it lands with the new ministers and not the old ones.
"It won't be long now [until it's published]."