Surprise departure leads to questions about a vacancy on the CLC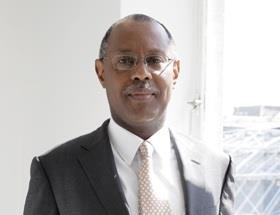 Bouygues UK's chairman and chief executive Madani Sow suddenly stepped down from the contractor this week, leading to speculation of a potential vacancy on the industry's Construction Leadership Council.
Sow was appointed to the rebooted leadership council last summer – a joint body between government and industry which replaced the axed chief construction adviser – making the cut while the government slashed its membership from 30 to just 12.
A source on the Construction Leadership Council (CLC) told Building "everyone was quite surprised" at the news Sow had stepped down from Bouygues and he had made no indication he would be departing the firm during a CLC meeting last month.
A government spokesperson said a statement would be made "in due course" on Sow's position on the council.
Bouygues said Sow has been replaced as UK chief executive by the French contractor's overall deputy chief executive Lionel Christolomme, while the deputy CEO of Bouygues Construction, Olivier-Marie Racine, has taken over as interim UK chairman.