Housebuilder restructures for growth bouyed by 'fantastic' start to the year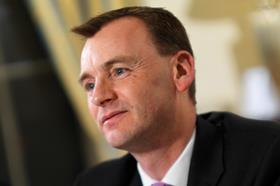 Bovis Homes has opened two new regions as part of a bid to nearly double its output to up to 5,000 homes per year.
David Ritchie, chief executive of the housebuilder, which today reported results for the calendar year 2013 showing a 48% rise in pre-tax profit, also said Bovis would increase the number of homes it builds by almost a third in 2014 from the 2,813 legal completions in 2013.
Ritchie said the housebuilder will produce between 3,400-3,600 homes this year, with private reservations per site already running 60% ahead of 2013 in the first seven trading weeks of the year.
Last year Ritchie restructured the business by dividing Bovis' three existing regions into six operating businesses.
Today he said Bovis was setting up two further regional businesses, again within the firm's existing geographical areas, one in the South Midlands, and the other in the Thames Valley, which officially started business in January this year.
Ritchie said the two businesses would give "very limited" output this year in terms of sales, but would provide a platform for future expansion: "We've set out the geography we're prepared to invest in, but within that we've grown our operating businesses from three to eight within the last year. At the moment our two new businesses are very much one man and his dog operations but they've been given the opportunity to buy land and set up."
Ritchie said this new structure would enable Bovis to build a maximum of 4,000-5,000 homes per year, though he declined to say when the firm would hit that target.
"Our business is growing very fast, and our challenges are in managing that situation, in terms of balancing investment and our ability to maintain growth in sales outlets. These challenges are becoming harder but it's a good problem to have," he said.
Bovis's revenue grew 31% to £556m in 2013, with the 2,813 homes it built representing a growth of 19% on the previous year.
Ritchie added the firm expected to see construction cost inflation of between 3-5% in 2014, but that these rises would be covered by rising sales prices.
"There is pressure on the labour market, people think they can charge more for their labour. Materials and labour are both available, but we're just having to pay a bit more for them," he said.