Bovis Homes has reported a 20% rise in completions, with the firm saying its profit margin has also improved.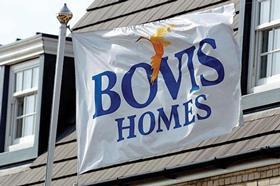 In a trading update ahead of its results for the year to 31 December 2013, Bovis said completions rose 19% to 2,813 compared to the previous year (2012: 2,355).
This included a 26% increase in private homes to 2,330 (2012: 1,854).
The housebuilder said its average sale price rose 14% to £195,100 "primarily due to an improved mix of larger homes with a greater proportion of higher value southern sites".
It said it expected to see its operating margin to rise to 15%, up from 13.3% the previous year.
David Ritchie, chief executive of Bovis Homes, said: "2013 was another successful year for Bovis Homes. We delivered significant growth in profits and returns as a result of our continued strategy of growth through investment in high quality consented and strategic land. Our forward order book is in its best position for many years.
"With further increases in active sales outlets supported by ongoing assertive land buying, the Group is confident of its future prospects and ability to deliver further significant improvement in returns."