News follows fall in 2016 profits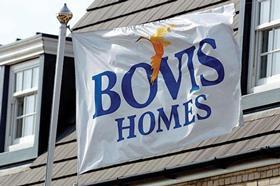 Housebuilder Bovis is to slash its build programme in a bid to get control of production issues which led to an unexpected fall in profit in 2016, the housebuilder announced in full year results today.
The announcement it will cut production levels by anything up to 15% in 2017 saw the group's shares fall by over 7% in early trading and follows the departure of the group's former chief executive, David Ritchie, in January.
Alongside results reporting pre-tax profit down 3% to £154m on revenue of £1.05bn, up 11%, the group said it had made a provision of £7m to resolve "customer care" issues following the housebuilder's well-publicised construction difficulties. It said that "weaknesses in our production process" and "a high level of customer service issues" we behind the provision.
The firm, now under the temporary leadership of former finance director Earl Sibley, said in a statement it will now use 2017 to "re-set" the business, with an end-to-end review of production processes, and an overhaul of its customer service function with a new customer task force.
The business said in its results statement: "The Group is focused on making 2017 the year when we re-set the business and deliver on our operational priorities. Reflecting this we are slowing our rate of production and targeting completion volumes for 2017 to be c. 10% to 15% below the 2016 level, before a return to normal industry production levels.
"Our production rate in early January has been slowed to support our priority focus on customer service, and current production programmes have been extended to allow sufficient time to ensure each home is delivered to the high standard of quality that we and our customers expect.
Chairman Ian Tyler admitted that there would "inevitably be an impact on our earnings and cash flow from the actions we are taking in 2017".
Bovis Homes has been one of the fastest growing housebuilders since the credit crunch, more than doubling home output since 2009. However, as the construction market has tightened Bovis has struggled, seeing its HBF customer service star rating drop, and ultimately leading it to warn in December that it was going to manage to complete 180 fewer homes than expected in 2016. Tyler today said construction had been hit by "the twin pressures of our growth strategy and the resource shortages across the industry."
Interim chief executive Earl Sibley said the 2016 shortfall "reflected underlying weaknesses in our production processes and resulted in higher than expected costs."
Sibley added: "The business has suffered from weakness in our production processes which has manifested in our development programmes not delivering to plan, in particular around the half year and year end periods when we have had a heavy weighting of completions.
"We have commenced an end to end review of our build process from the point we acquire a development to the timing of the final completion."
The group said the "fundamentals" of the business remained strong, and its dividend for 2016 was up 13% on the previous year at 45p per share.