Lewis says new funding system for apprenticeships will not penalise small businesses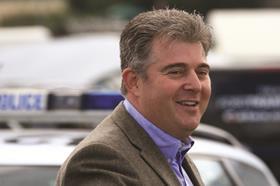 Housing minister Brandon Lewis has insisted that the government is "committed" to introducing a future funding model for apprenticeships that doesn't disadvantage small builders.
The planning and housing minister's comments follow fears raised by the Federation of Master Builders (FMB) earlier this month that requiring firms to fund apprenticeships up-front would increase bureaucracy and damage SMEs' ability to take on trainees.
But Lewis told a pre-election debate at Parliament yesterday that it was "vital" for the industry to present itself as a "modern and forward-looking industry" to attract the next generation of school leavers and graduates, and that SMEs would not be left out.
"We're committed to implementing a future funding model that doesn't exclude small businesses," he said.
Labour shadow housing minister Emma Reynolds used the event to detail her party's proposals for a "Help to Build" scheme that would see the Treasury underwrite loans to small builders in a bid to raise their activity back towards 1990s levels.
"I know the government has the small builders fund, but there have been some difficulties," she said.
"We think it's better to try and make the access to funds through the banks."
Reynolds subsequently said the scheme would particularly target small-scale development and guarantee a portion of the loans made to builders in the same way the Help to Buy scheme does for house-buyers.
She said some developments benefiting the government's Builders Finance Fund were too large, and that applying to a bank for funding was preferable to the current bidding process.
Liberal Democrat communities and local government minister Stephen Williams told the session his party was still considering the potential for introducing a "Housing Investment Bank", an idea debated its autumn conference last year.
The politicians were speaking at an event hosted by the FMB and chaired by Building editor Sarah Richardson.
The trade body used the session to launch a 15-point manifesto for the next government, which backs Building's Agenda 15 in a number of significant areas.
They include the creation of a funding framework to maximise apprenticeships, a target of more than 200,000 homes per year to be built in England, and the creation of a dedicated investment programme to upgrade the environmental performance of existing homes.